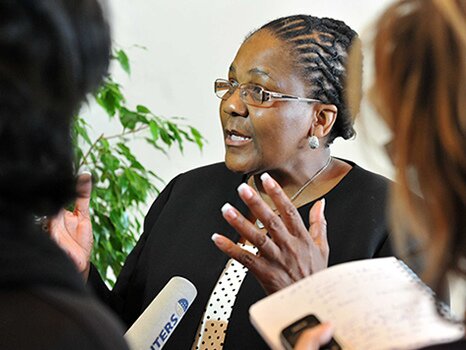 Dipuo Peters. CC image courtesy of GovernmentZA on Flickr.
Dipuo Peters, South Africa's transport minister, has said cowards are behind the billboards sighted along the N1 and N3 highways in Johannesburg.
The billboards hold the African National Congress (ANC) responsible for the controversial e-tolling system.
HumanIPO reported earlier today the Democratic Alliance (DA) opposition party admitted they were responsible for the billboards, saying their message: "E-tolls. Proudly brought to you by the ANC" is 100 per cent correct.
"Those are cowards and people who don't have the decency to actually acknowledge that the ANC led government has delivered in this country," Peters told The New Age newspaper's business breakfast in Midrand today.
She added: "They want to focus on one aspect and turn an important infrastructure of the economic hub of South Africa… into a gimmick."
According to Peters, the people behind the billboards, do not have a place in the country. "We really don't have time for such people."
Peters said last week the department had finalised the regulations and will this week address the tariff structure and are beginning the process to publicise it for 30 days.
According to Peters, the high costs involved with e-tolling are due to the technology used. "It's imported and we have to pay for it. Just like your cellphone, just like any other technology that we use."
Peters said the Gauteng Freeway Improvement Project (GFIP) objective is to decongest roads.
"We have also created alternative routes to make sure that those who are unable to get onto the freeway, those who don't want to get onto the freeway, those who don't want to pay, can use the alternative routes," said Peters.
Peters confirmed the implementation of e-tolling is set to go ahead before the end of this year.