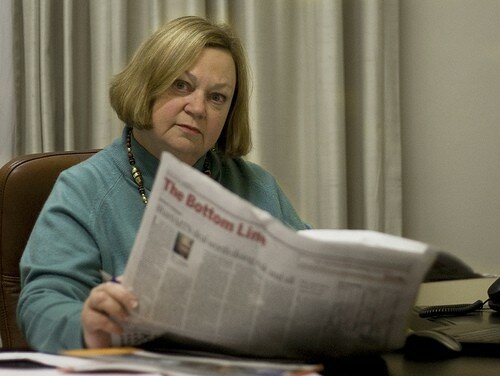 Marian Shinn. Image courtesy of The Democratic Alliance.
The policy on control for set-top boxes (STBs) required for digital terrestrial television (DTT) is still being reviewed by South Africa's Department of Communications (DoC).
This was revealed through a reply to a parliamentary question submitted by Marian Shinn, the Democratic Alliance's (DA) shadow minister for communications.
HumanIPO reported last month on e.tv criticising the deal between the South African Broadcasting Corporation (SABC) and MultiChoice, which stops the state broadcaster from offering its channels via encrypted platforms, with Shinn responding by calling for clarification on the matter in paliament.
Regarding the DoC's review on STB control, Shinn said: "This is despite the threat of punitive financial penalties for the SABC, should it adopt such controls for its free to air TV broadcasts."
She said Yunus Carrim, the communications minister, did not provide further details pertaining to who was involved with this particular review or when it would conclude, but confirmed independent facilitators were called in by the DoC to seek consensus "among the feuding parties".
"The DA will submit follow-up questions to minister Carrim to determine whether the SABC's acting chief operating officer, Hlaudi Motsoeneng, had the government's approval to decide that the broadcaster's TV programmes will be made freely available without access control systems and, if not, what actions will be taken against him," Shinn said.
Shinn also wants answers as to the steps Carrim intends to take to renegotiate the terms of the contract between the SABC and MultiChoice.
She said Carrim must confirm whether the SABC's interim board sought clarity from the government before approving the deal, and whether the SABC was authorised to sign away the requirement for an access control system.
She said in the deal, which was signed on July 3, "for two 24-hour TV channels on the MultiChoice subscriber channels, the SABC agreed that 'should any one or more of the SABC FTA (free-to-air) channels be made available on the SABC DTT platform in South Africa at any time during the term [of the deal] on an encrypted basis, and that access to the SABC FTA channels is/are controlled or limited by means of conditional access systems or otherwise not freely available for viewing' penalties would apply".
Shinn's concern is MultiChoice could suspend the agreement in which it pays the SABC ZAR553 million (US$55.5 million) over the course of five years for the rights to "flight its 24-hour news and entertainment channel" via its platform and ask for its money back.
Alternatively MultiChoice could continue to broadcast the channels, but without paying any further fees, or the SABC will refund the money paid.
"Transparency and clarity is needed to ensure that the deal between the SABC and MultiChoice will not hamper the public broadcaster, or the DoC, to deliver on their DTT transition promises," said Shinn.