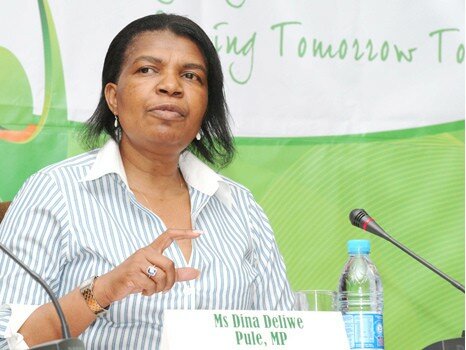 Former minister Dina Pule. CC image courtesy of GovernmentZA.
Dina Pule, the former minister of communications, allegedly sanctioned the controversial ZAR550 million (US$55.4 million) contract signed between the South African Broadcasting Corporation (SABC) and MultiChoice, the South African pay-TV broadcaster.
HumanIPO reported last month on the deal between the SABC and MultiChoice, which was criticised by the Democratic Alliance (DA) and e.tv, the free-to-air broadcaster.
City Press cited sources raising concerns regarding the contract, including selling off the SABC's broadcasting assets to MultiChoice, which may also give it exclusive rights to the SABC archive.
The concerns also include whether or not the deal complied with the Public Finance Management Act and if it was approved by the minister.
However, both the SABC and MultiChoice denied the claims suggesting MultiChoice would have full access to the state broadcaster's archive.
The Department of Communications (DoC) said the joint task team (JTT), which was appointed for the SABC, is looking into the deal.
"The JTT was established by the current minister (Yunus Carrim) and includes representatives of the SABC, the DoC, National Treasury and the auditor-general's office," City Press quoted Siyabulela Qoza, spokesperson for the DoC, as saying.
"One of its tasks is to consider how the contract with MultiChoice fits into the long-term strategy of the SABC and how financially beneficial it is to the SABC."
According to Qoza, Pula approved the SABC's proceedings with the contract, but did so under the provision there was sufficient funding available to support the 24-hour news and entertainment channels yet to be launched on the MultiChoice platform.
"MultiChoice has some 20 million viewers, which the SABC will leverage for advertising revenue," said Kaizer Kganyago, a spokesperson for the SABC, adding that the SABC would retain all advertising revenue on both channels.
According to Kganyago, the SABC has a vast archive, only a small portion of which MultiChoice will have access to. The archive will reportedly be used by MultiChoice in order to "package" the entertainment channel.