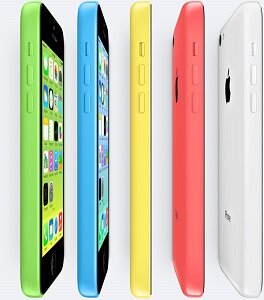 Slow sales of the iPhone 5c, which reports suggest have resulted in production being cut for the final quarter, should not surprise Apple. As far as the "budget smartphone" market goes, the iPhone 5c is still too expensive.
Launched on September 10 this year, alongside its more upmarket brother the iPhone 5s, the iPhone 5c was billed as Apple's first foray into the "budget smartphone" arena.
With colourful plastic casing, and showcasing less flashy upgrades than usual, the 5c was billed to be the "affordable iPhone". This was particularly evident when Apple set the recommended retail price at US$99.
However, unless signing up to long-term contracts with mobile operators, the cost of the device off-contract in the US is actually above US$500, while in China the device costs users in excess of US$700.
Pre-order figures for the new iPhones were heralded as the highest yet – with Apple selling nine million units in the first weekend of sales – but notably, while the company boasted over iPhone 5s sales, information on iPhone 5c sales was not forthcoming, with Apple failing to reveal separate sales numbers for the iPhone 5s and iPhone 5c.
The latest rumours suggest the company has now decided to cut manufacturing of the cheaper device for the final three months of the year. Reuters reported today one main manufacturer, Pegatron Corp, has had its order cut by 20 per cent; while the Wall Street Journal reports Hon Hai Precision Industry Co had a third of its manufacturing order pulled.
Slow sales should not surprise Apple. In fact, the price tag on this "foray into the budget smartphone" market signed the iPhone 5c's death sentence before sales could even get underway, with the phone still too expensive for the consumers apparently targeted by the company.
Those wishing to spend in the region of US$500 and above will not be buying a device which, although colourful, does not offer much in terms of technical upgrades from the previous model, particularly with so many other similarly priced and popular devices on the market, and bearing in mind that even the iPhone 5s is not much more expensive.
Is this Apple's fault? It may also be due to pricing plans on offer by mobile operators. However, if Apple wants to be a leader in the low-cost smartphone market, it will have to address the need to cater to its actual target audience price-wise.