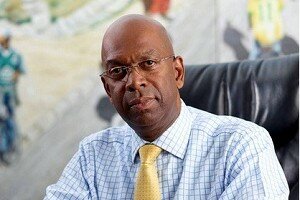 Bob Collymore, CEO Safaricom. CC image courtesy of Albert Kenyani Inima on Flickr
Bob Collymore, chief executive officer (CEO) of Kenya's largest mobile operator Safaricom, has been appointed as the board champion on governance and ethics at the United Nations Global Compact (UNGC), the world's largest membership-based corporate responsibility and sustainability initiative.
The new appointment is an additional responsibility to his earlier appointment to the board as a honorary member at the voluntary UN initiative, which encourages businesses to adopt sustainable and socially responsible policies.
"At Safaricom, we feel it is important for companies to report on their operations from a holistic perspective and to report on their sustainability credentials. Corporate governance and ethics are a key factor that underpins a company's reputation," Collymore said.
The initiative also encourages corporate support for the UN's Millenium Development Goals and adherence to human rights, good labour practices, support for the environment and anti-corruption.
Collymore's appointment as an honorary member for a period of three years was seen as a recognition of Safaricom's commitment to environmental sustainability and anti-corruption issues as well as the work the company is undertaking to address Millenium Development Goals Four and Five, regarding maternal health and child mortality.
"Safaricom is a signatory to the UN Global Compact and is one of the first Kenyan corporates to sign up for the Code of Ethics of Business in Kenya," Collymore said.
While reading his speech on launching Safaricom's second Sustainability Report, Collymore said: "We remain an enthusiastic member of the United Nations Global Compact (UNGC) board and are committed to the compact's goal of encouraging businesses to align their operations and strategies with 10 ethical principles."