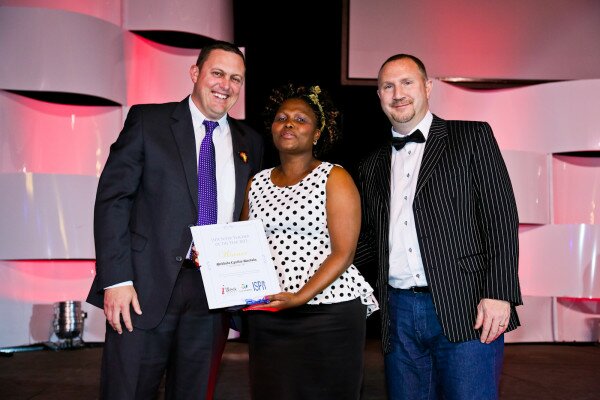 Neil Dundas, managing director of ZACR, Mokhudu Cynthia Machaba, Super Teacher of the Year 2013 and Salah El Baba from SMS Web.
South Africa's Internet Service Providers' Association (ISPA) has raised ZAR150,000 (US$15,209) for IT training, planning on equipping an additional 50 educators.
Started in 2001, the programme facilitates computer and internet literacy sessions for school teachers in rural schools to benefit their teaching and enrich the community.
Funds were raised at a recent gala dinner, following the iWeek 2013.
HumanIPO reported last month on ISPA's Teacher of the Year Award recipient.
Fiona Wallace, chair of the ISPA Teacher Training Working Group, said: "The ongoing generosity of internet industry stakeholder means that over 50 additional educators will be trained to use and impart IT skills during their teaching at some of South Africa's most resource-strapped schools."
ISPA's Train the Teacher project has reached 3,105 teachers over the last 12 years, helping under-resourced South African schools through the CoZa Cares Foundation.
Sponsors for 2014 include a variety of company such as Switch Telecom, SMS Web and ZA Central Registry (ZACR).