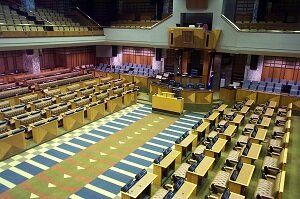 The chamber of the National Assembly of South Africa. CC image courtesy of Kaihsu Tai.
South African minister of communications Yunus Carrim is running the Department of Communications (DoC) like a 'spaza' shops (an informal convenience store), according to Sikhumbuzi Kholwane, chairperson of the parliamentary communications portfolio committee.
HumanIPO reported yesterday on the mid-year communications summary report, which stated the DoC achieved nothing in the last six months in terms of creating ICT jobs and hubs, set-top box manufacturing and broadband penetration due to budgetary constraints.
According to a report by the The Mercury, Kholwane said the DoC failed to fill key positions, while he further alleged it allowed senior managers to receive bonuses which he believes they do not deserve.
Carrim, Stella Thembisa-Abrahams, the DoC's deputy minister, and Rosey Sekese, the DoC's director general, all failed to attend parliament to face the committee yesterday in order to discuss the bleak picture painted by the report, which indicates the DoC is not functioning properly.
Sam Vilakazi and Norman Phiri, the deputy director of administration and deputy director general of policy respectively, attended in their place.
"The way this department is run, it has clearly become a spaza shop. It is completely disorganised," The Mercury quoted Charles Kekana, African National Congress (ANC) member of parliament (MP) as saying.
Phiri attempted to defend the DoC by saying it has unsuccessfully attempted to recruit experienced people.
"We are looking for engineers, but they don't apply. We get people who come from school, but we are looking for managers," said Phiri.
Kholwane said in response: "Maybe people don't want to work for the department because you are not the employer of choice."