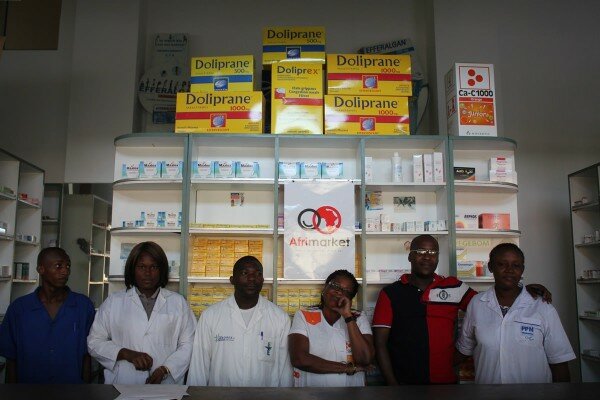 A pharmacy where Afrimarket customers can redeem their credit. Image courtesy of Afrimarket.
Mobile money remittance service Afrimarket will expand its operations to Cameroon as part of its plan to cover the African diaspora with its affordable transcontinental solution.
Launched in June 2013, Afrimarket allows people in Europe to send money to their contacts in West African countries such as the Ivory Coast, Senegal and Benin.
At a flat rate of five per cent per transaction without foreign exchange charge, the service's difference is its credit use to be spent at targeted points of sale (POS) as specified by the sender.
Speaking to HumanIPO, Jérémy Stoss, chief operating officer (COO) at Afrimarket, said:
"We started in West Africa because they speak French and…there is a real market for the solution, but really this is meant for the entire African diaspora and we are really eager and anxious to go to other countries anyway, especially in Sub-Saharan Africa."
HumanIPO reported yesterday (Tuesday) cross border mobile money remittance was expected to reach US$1 billion globally by the end of 2013.
Planning to launch in Cameroon by 2014, the service will be reaching 70 POS by the end of November and sign a deal with Ivory Coast-based CDCI trade store which will add more than 120 POSs countrywide, with more expansions up ahead.
Offering a lower rate than the world average of eight per cent and 12 per cent to African destinations, the company aims to aid the 70 per cent of Africans who transfer money to their mother countries from Europe.
"Basically there is no real reason why this would be costly to send remittances to Africa, high fees come only from the monopolistic structure of the money transfer market to Africa, which has kept prices artificially high," Stoss said.
Ensuring secure transactions through a GPRS connection and a cryptic sound validation at POS, the service works on all mobile phones.
Afrimarket is in the process of developing a cross-platform app for its European smartphone owners, as well as an USSD solution for its African users.
"Geographical coverage is a challenge – Africa is very wide," Stoss said.
He explained payments from Europe to Africa is generally seen as "a bit more of a pain".
The startup has recently gained funds from two European investors, namely Kima Ventures and OCP Finance to the value of US$1 million.
"It's one of the first times where a company based in Europe targeting only the African markets get funding from European investors, early stage or startup," Stoss said.
As 70 per cent of Ivory Coast immigrants live in France, it is Afrimarket's biggest market at present since it launched there first.
However, in the French speaking West African context the greatest remittance market is Senegal with a total of US$1.2 billion transferred per year, comparing to annual totals of Ivory Coast and Nigeria at US$250 million and US$20 billion respectively.
Afrimarket is also launching a special gift option for Christmas which will serve as a replacement for paper-printed coupons or vouchers generally popular in Africa, to be used by local companies willing to offer their employees innovative, electronic vouchers.