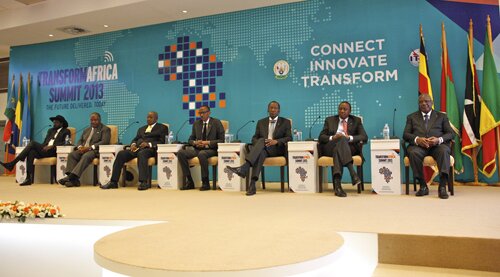 Image courtesy of Statehousekenya.go.ke
President Uhuru Kenyatta has announced that his administration will use ICT to transform Kenya and improve the lives of citizens.
Speaking in Rwanda yesterday (Tuesday) at the Transform Africa Summit, Kenyatta said ICT is no longer a luxury, but a powerful tool that will help address most of the problems facing Kenya and Africa at large.
"We are determined to ensure that our people fully benefit from the advantages to ICT and related technology," Kenyatta said.
He said Kenya has prioritised the use of ICT in its development agenda because of its potential to trigger an industrial revolution necessary for the country's transformation and in reducing the cost of doing business, a key ingredient in economic growth.
The president said the laptop project featured prominently in the Jubilee Coalition's manifesto and underscored his personal determination to ensure its implementation is successful.
"We are introducing laptops to our children because we want them to begin, right from their basic education, to know that this is one of the greatest tools that have the power to significantly improve life," he said.
Kenyatta said ICT powers economic growth and Africa must quickly integrate it in all development policies.
Rwandan president Paul Kagame, who also spoke during an interactive session for heads of state, said Africa must embrace ICT in order to compete effectively with the rest of the world.
Salva Kiir, president of South Sudan, revealed his government has entered into an agreement with Kenya to have the fibre optic construction from Mombasa extended to Juba.
Kiir said this would greatly improve internet connectivity in the world's youngest nation.
Yoweri Museveni, president of Uganda, said there should be a rapid uptake of ICT by African countries, but said it should not be done at the expense of other key sectors of the economy including agriculture, industry and the service sector.