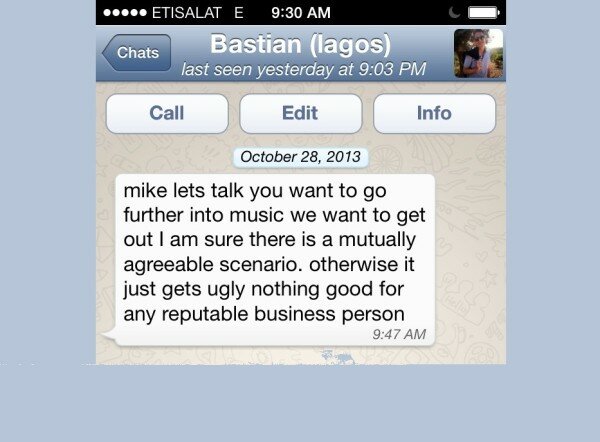 An apparent SMS sent from Bastian Gotter, co-founder of iROKING Partners, sent to Ugwu this week.
Michael Ugwu, chief executive officer (CEO) of Nigerian music platform iROKING, was fired last night (Thursday) for alleged "gross misconduct" concerning the setting up of his own music site "in direct competition with iROKING".
HumanIPO has received Ugwu's response, printed in full below, which claims discussions between him and the company had already taken place over his future role at the company and the "winding down" of iROKING's music services.
Below is Ugwu's unedited response.
I would like to state for the record that a decision to wind down iROKING was taken before the iROKO management "apparently'" fired me. I was verbally asked to become COO of Spark Ltd which I summarily refused stating my intention to stay in the music space.
It has been clear for some time that iROKO Partners wanted to exit the music space culminating in the winding down of iROKING so I am still fully trying to understand how I would set up a platform to compete with a platform that was to be "scrapped" according to Mr Jason Njoku.
For the record I would like to see physical evidence of the digital platform I have set up. A copy of the apparent companies registration will suffice. I also strongly suggest to the management of iROKO Partners that rather than sending out press releases and writing blog posts on their personal blogs they should first tidy their house and/or pursue serious legal action.
In the land of iROKO I guess restructuring means getting out of a sector. Nigerian artists please beware of iROKO Partners apparent commitment to developing the digital distribution space. (Please see attached screenshot)
In the Ventures Africa blog post I was fortunate enough to read Jason Njoku's mention of a 6 week "generous" severance package for iROKO staff however to date all the iROKO staff affected in this saga have not received such. I implore serious investigative journalists to verify his claims. Seek out former staff and ask questions.
I believe that Jason Nkoju has possibly spent far too long distributing Nollywood films online so much so that some of the sensationalist story lines influence him.
If iROKO Partners wishes to pursue legal actions I suggest they do such or I will see this is flagrant defamation of character.
Last year iROKO Partners Lagos had circa 80 staff, now there are circa 15 remaining. At a time many of us were loyal to the iROKO cause, however serious structural issues have arisen so much so that many have felt it safer to find employment elsewhere. I wish the remaining staff members and management the best of luck in their future endeavours.
Thank you for all the phone calls and text messages showing concern.
I am working on something rather exciting and will be announcing my next venture in the coming weeks.