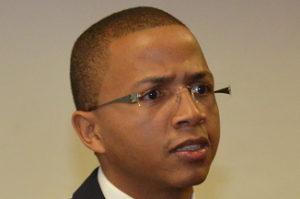 Tshepo Tsheko, programme manager at Botswana Innovation Hub (BIH).
The Botswana Innovation Hub (BIH) today launched its First Step Venture Centre incubation and acceleration programme, providing business and technical support to selected startups.
Focusing on technical innovations, BIH had already picked two startups to enroll this week and were due to evaluate eight more last Friday.
Speaking to HumanIPO, Tshepo Tsheko, programme manager at BIH, said: "We are seeing lots more talent with ICT and clean tech in Botswana. One of our current clients working on a bio-diesel innovation."
BIH was set up and is wholly funded by the government, but it does also have a subsidiary which manages private partnerships.
The new incubation and acceleration programme is a rolling initiative, which sees participating startups sign an agreement with BIH to fulfill certain requirements and work commitments.
BIH does not however give cash funding or take equity in the startups that participate, rather providing working space and supporting them through facilities, mentorship and access to expertise.
"There is no time scale on a startups participation in the programme. Graduation from the centre can take place at any point," Tsheko said.
"With regards to the commitment from entrepreneur, they must be working here full time and be fully committed to developing the business."
While BIH is currently not investing hard cash in the startups, it is currently setting up an investment fund which will serve as seed funding for future businesses.
The hub is also hoping to work with other funds and programmes, such as U-Start, to secure follow-on funds for those which take part in the incubator.
Regarding the tech startup scene in the Southern African country, Tsheko said there was room for a lot of growth.
"It is in an early stage, but it is worth qualifying that by saying there is two sides to coin. One side is there is the talented people who have been working on projects for some time, but the other question is market readiness for such tech innovation," Tsheko said.
"We have seen a lot of uptake of the products and services that have been born in Botswana, but more of that uptake is internationally rather than locally."
The First Steps Venture Centre is currently housed away from the main BIH location on the outskirts of Gaborone because of the ongoing building work, but will eventually be moved to the Icon Building once it has been completed in two years time.