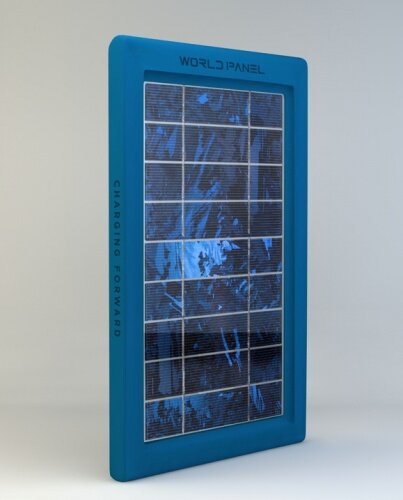 The World Panel 1000 charger.
World Panel will launch its range of handheld solar mobile chargers at AfricaCom in Cape Town next week, claiming to be able to power five hours of call time from one hour of charging.
The United States-based company was founded by John Anderson, who on a visit to Sub-Saharan Africa recognised the demand for mobile electricity.
Anderson is now targeting partnerships with wireless carriers, operators and the over-the-top (OTT) players for his World Panel 500 and 1000 devices.
"I arrived in the Sub-Saharan in 2011 with a solar prototype for boiling water and left with the clear message that people wanted a better way to keep their phones charged," said Anderson.
"After an intense R&D and testing period, I am returning to Africa to launch a line of patented chargers that meets the requirements of those I interviewed. It is as fast as a wall plug, it will last, and the price is right. Income generation is possible also for both entrepreneurs and the telecoms since 10 phones can be charged in a day."
World Panel claims to have a "direct-from-the-sun" technology patent which sets it apart from other solutions on the market.
HumanIPO reported in September Rwandan entrepreneur Henri Nyakarundi was seeking funds to roll out his mobile solar charging kiosk in his home country and Burundi.
Nyakarundi is targeting a franchise model, which will individuals own and manage each kiosk which can charge up to 20 phones at a time.
Anderson's device claims to be able to charge "most popular phones in Africa" in one hour and power five to six hours of talk time.
A BlackBerry device however takes two to three hours to fully charge, but provides three to four hours of talk and data time.
Anderson also highlights a United Nations (UN) energy initiative report which said African telecommunications firms suffer a 20 per cent revenue loss because of unreliable phone charging.