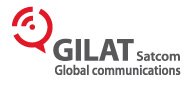 Communication solutions provider Gilat Satcom unveiled a host of new fibre and satellite services for Africa today, which will increase broadband availability, speeds and capacity for enterprises as well as fixed and mobile operators.
The services, which were launched at AfricaCom 2013 in Cape Town this morning, include Aguila 3rd Generation which is the redesigned and upgraded shared and optimised satellite services for both the C and Ku-band.
Gilat will also showcase its M2M solutions that enable companies to track their assets and to access them in real time. There will also be news on the expansion of its fibre capability in Nigeria.
Dan Zajicek, Gilat Satcom chief executive officer (CEO), said: "We continue to invest heavily in both our fibre and satellite operations throughout Africa.
"Our customers have access to fully-redundant extremely stable broadband networks with excellent QoS and competitive pricing".
HumanIPO reported in July Gilat Satcom has launched a host of new fibre routes in coastal and landlocked Africa.