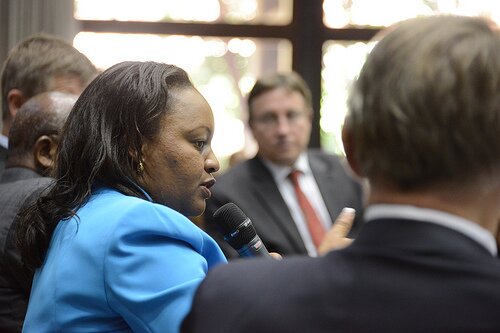 Ann Waiguru, Cabinet Secretary Devolution and Planning CC image courtesy of UNEP on Flickr
The Kenya National Bureau of Statistics (KNBS) is set to be digitised in a move to enhance the quality of data it provides to users.
Speaking yesterday (Monday), Anne Waiguru, devolution and planning cabinet secretary, said modern electronic technology will be used as part of radical reforms geared to empowering county governments to collect and analyse their own data for development purposes.
"We have initiated some programmes to improve the quality of statistics including the Integrated Management Information System (IMIS), Integrated Financial Management Information System (IFMIS), Education Management Information System (EMIS), Health Management Information System (HMIS) and the KENINFO data dissemination system," Waiguru said.
She said the government was in the process of establishing a National Strategy for the Development of Statistics which will be a comprehensive and unified framework for continual assessment of user needs and priorities in statistics.
Waiguru was speaking during the unveiling of the ISO 9001:2008 certification, which KNBS recently attained to become the first data processing entity to have ever acquired the approval in Africa.
She said KNBS will produce County Statistical Abstracts that should be a one-stop shop for county based statistics, in the same way Huduma Centres will become a one-stop shop for public services.