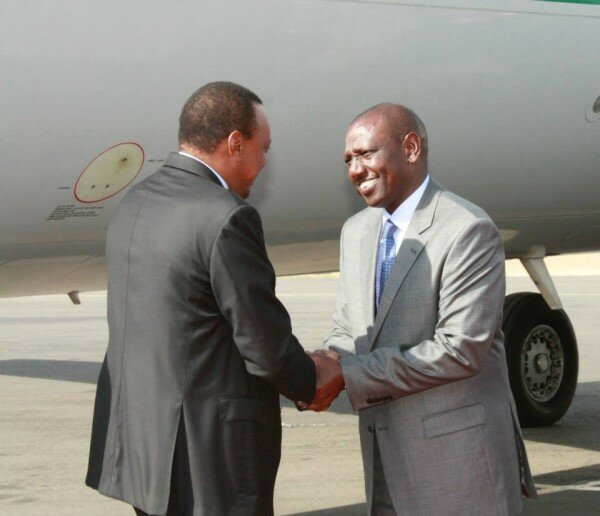 William Ruto (right) with Kenyan president Uhuru Kenyatta. Image Courtesy of Deputy President Comm. team
Kenya has snubbed the United Kingdom (UK) government's offer of tabling an amendment to have President Uhuru Kenyatta and his deputy William Ruto attend their International Criminal Court (ICC) trials at The Hague via video links.
The UK was previously one of eight United Nations Security Council members which abstained in a vote to defer trials.
One Kenyan official, speaking to the Standard newspaper on condition of anonymity, said: "No one wants what the British are offering. No one asked them to present it and they should keep it to themselves because that is not what Kenya and Africa are taking to the State Parties meeting."
He said the UK declined Kenya's request to defer and also incited other members of the Security Council, Guatemala and Argentina, to ensure they did not get the majority vote.
John Bradshaw, head of communications at the British High Commission in Nairobi, said: "I can only confirm that we are tabling the amendment at the Assembly of State Parties (ASP) on video conferencing and we hope that all parties will consider the amendments constructively."
HumanIPO reported on Monday the UK government had resolved to push for the amendment that will see the Kenyatta and Ruto trials be held through video link.
Oliver Robbins, the deputy national security adviser to the UK's cabinet office, said the government prefers the use of video link for the president and his deputy throughout the trial.