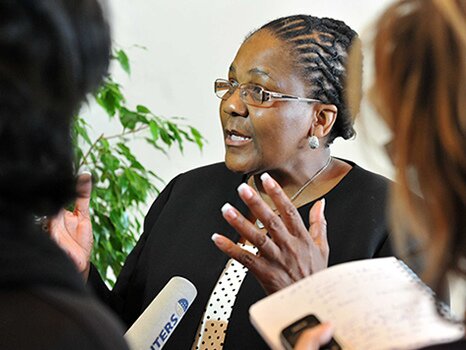 Dipuo Peters. CC image courtesy of GovernmentZA on Flickr.
The South African National Roads Agency (SANRAL) and the government continue to urge motorists to register for an e-tag before the controversial e-tolling system goes live on Gauteng's highways tomorrow (Tuesday).
HumanIPO reported last week the Freedom Front Plus (FFP) had launched a court application for an interdict against the start of e-tolling, which will be heard today.
The FFP is claiming "critical technical errors" in the way the introduction of e-tolling was announced because it has given a 13 day warning, rather than the 14 day period that is required under the terms of the SANRAL Act.
The uncertainty however has not stopped more than 21,000 people registering for the e-tag in the past two weeks and Dipuo Peters, transport minister, said they were aware of the ongoing campaigns by the likes of the FFP, the Opposition to Urban Tolling Alliance (OUTA) and the Democratic Alliance (DA).
"It's in your best interests that you get tagged. This will enable you to gain access to discounts offered to tag holders by SANRAL," said Peters.
"We are aware of campaigns discouraging people from registering and we wish to encourage motorists not to pay attention to such."
If motorists are not registered for their e-tag then they can expect to pay almost double the toll when driving onto the tolled network of roads.
It not a legal requirement to register, but Peters said it was in drivers' interest to do so since they will be paying 30 cents per kilometre, rather than 59 cents per kilometre.
HumanIPO reported on Friday the Justice Project SA (JPSA) had slammed the confusion surrounding the legal position of e-toll defaulters and had contacted the Department of Transport and SANRAL for urgent clarification.