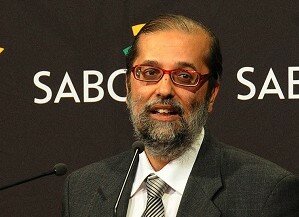 Yunus Carrim. CC image courtesy of GovernmentZA on Flickr.
South African communications minister Yunus Carrim wishes to brief members of parliament (MPs) over the contents of a Special Investigating Unit (SIU) report into financial irregularities at the South African Broadcasting Corportaion (SABC).
Carrim used a written reply to a parliamentary question tabled by Congress of the People MP Juli Killian to call for "an opportunity to brief the portfolio communications committee on the SIU report in a closed briefing".
"The information that is asked is by nature confidential and may not be disclosed," Carrim said in his reply.
Carrim last month requested Eric Kholwane, chairperson of the portfolio committee, hold a closed meeting on the matter, which centres around criminal prosecutions that arose from the Special Investigations Unit investigation.
Marian Shinn, the Democratic Alliance's (DA) shadow minister for communications, has called for an open briefing of parliament regarding the investigation.
Carrim has not proposed a date for the briefing, though it is unlikely to take place until parliament resumes next year.
HumanIPO reported last week Carrim had viewed a separate report on the SABC, from the public protector into alleged maladministration at the state broadcaster, but said he would not comment and that the final recommendations will be for the the SABC to act upon.
Meanwhile, the Department of Communications (DoC) has completed its "broadband policy, strategy and plan", and sent the plan to cabinet, which meets today.