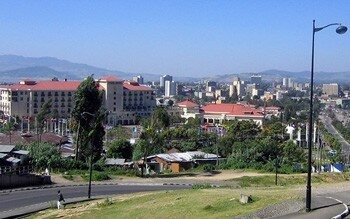 Addis Ababa, Ethiopia's capital city. CC image courtesy of Michael David Murphy.
The Vodacom Group will apply for a value-added-services (VAS) license in Ethiopia, potentially joining MTN in the otherwise state-dominated telecommunications sector.
Ethio Telecom currently has a monopoly in the East African country's mobile sector and has begun rolling out a 4G network in partnership with Huawei and and ZTE.
Although there does not appear to be any signs the government is willing to grant full voice services licenses to compete with Ethio Telecom, MTN Group has already been granted a license to provide value-added-services.
Vodacom, which has operations in South Africa, Tanzania, Lesotho, Mozambique and the Democratic Republic of Congo (DRC), has now opened an office in Addis Ababa as it prepares to build its brand in the country.
"We want to position ourselves so when the market opens and the government does decide to grant licences in the consumer sector," Romeo Kumalo, Vodacom Group's chief executive officer (CEO), told Reuters.
"We would invest here tomorrow. Ethiopia is probably the most fantastic telecoms market on the continent. One operator, 80 million people, the economy growing at seven per cent – it's a great market."
Ethiopia's Ministry of Communications and Information Technology has reportedly already received more than 200 applications for VAS licenses.