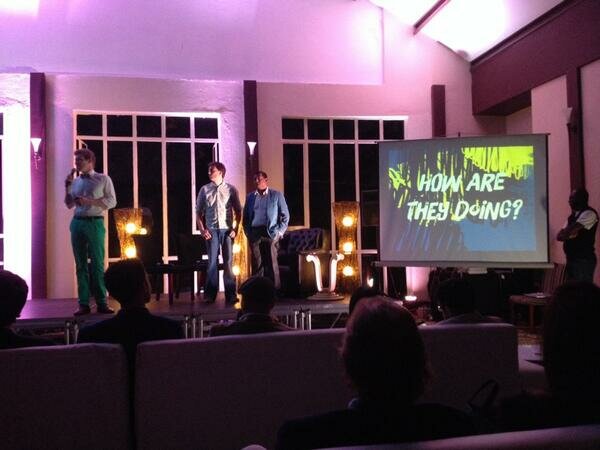 Startups pitched to local and foreign investors at the 88mph Nairobi Demo Day event yesterday (Thursday), with some making a commitment to invest.
The event included four startups from 88mph's latest Kenya accelerator and four from its 2012 programme presenting to more than 60 investors, with some deals made even before the pitching began.
BookNow, an online bus booking platform, took to the stage first with founders Francis Gesora and Michael Nguru discussing progress to date and plans for the future.
The site is already selling tickets for Queens, Easy Coach and Mash buses and has sold 450 tickets in the past month.
Nguru said BookNow plans to make US$5 million in three years, selling 7,200 seats out of 30,000 addressable seats a day in East Africa.
mBet, an online sports betting bookmaker in Uganda, founded by Mike Miller and Kresten Buch, took to the platform second, with Miller claiming it has 4,200 active clients a month, 45,000 bets a month and has US$40,000 revenue a month.
Buch, who is also the founder of 88mph, said mBet plans to expand to Kenya, Tanzania and Nigeria and achieve revenue of US$600 million in 2018 and profits of US$100 million.
Yum, a food delivery service in Nairobi, also took to stage to eye investors as chief executive officer (CEO) Victor lora, said the platform serves 50 restaurants.
Lora said Yum had revenues of US$20,000 last month, US$3,500 profit from 900 orders, targeting 2,000 a day.
Gamsole, a former accelerator programme startup, also showcased, where founder Olaniran Abiola said his firm had established itself as a top African game studio with millions of games downloaded for Windows Phone, where it is listed among the top 20 games on the platform.
The startup aims to monetise six per cent of downloads to make US$3,180 per day and it has received US$20,000 from Microsoft.
Mobile music platform Mdundo, another startup from 88mph's 2012 programme, said it aims to make US$5 million in 2016 by charging 18 per cent of users a US$3 per month subscription fee.
Tourist Link, a social marketplace which matches travellers with local travel services, said only 15 per cent of packages are booked online and it has managed to negotiate margins for sales up from 10 per cent to 16 per cent.
Speaking to HumanIPO before taking the platform, James Mwaniki, founder of emergency airtime platform Movas, said he had already secured investments during the meet-up chat.
He said Movas is currently in the Maldives and plans are underway to establish in Somalia.
Mwaniki said the platform has been selling US$93,000 of airtime monthly and is looking to expand from 0.01 per cent of the market to 75 per cent of prepaid mobile subscribers globally. Seventy per cent currently do not use emergency credit.
Ghafla!, Kenya's biggest entertainment website, was the last startup to pitch, where founder Samuel Majani said there was no entertainment site before they came in and they are currently "solving the local entertainment problem".
88mph invested US$25,000 in Ghafla! two years ago and now the company makes the same amount of money each month.
He said Ghafla charges US$70 to host adverts on the platform and charges similar amounts to promote events.