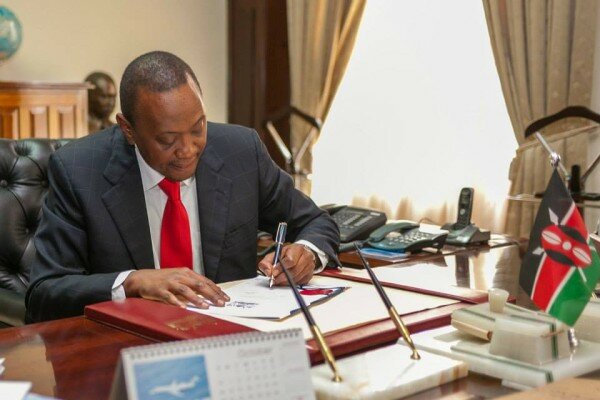 Image Courtersy of PSCU
Kenya's President Uhuru Kenyatta has signed into law the controversial Kenya Information and Communication (Amendment) Bill two weeks after parliament adopted contentious proposals recommended by him.
The assenting into law means that the Communications and Multimedia Appeals Tribunal retains its initial power to impose fines on media houses and journalists and recommend deregistrations.
Justin Muturi, Speaker of the National Assembly revealed to The Nation yesterday evening (Monday) Kenyatta had signed the bill into law on Wednesday.
The new law will also see the revamped communications authority under the executive wing of the government, giving the president and the cabinet secretary power to appoint and dismiss members of its board.
HumanIPO reported earlier this month the Kenyan media and members of parliament had agreed on amendments to the bill, but Energy, Information and Communication Committee chairman Jamleck Kamau withdrew the changes a day before parliament passed the bill and broke for Christmas.
The law also allowed for self regulation of stakeholders in the industry but establishes a government-controlled tribunal to oversee their mandate.
HumanIPO reported Kenyan journalists and stakeholders held countrywide demonstrations in protest against Kenyatta's proposed changes to the bill, arguing the new law was worse than the original.
Media owners had vowed to challenge the KICA bill in court once Kenyatta signs it into law.
"You cannot legally challenge the bill when it has not been signed into law. We are preparing for the suit and once the president assents to it, we will move to court challenging its constitutionality," said Paul Muite, the lawyer representing the media owners.
The law also retains KSh20 million (US$230,000) fine against media houses and KSh500,000 (US$5,750) for individual journalists, and expands offences for which they can be punished by the government-controlled Communications and Multimedia Appeals Tribunal.