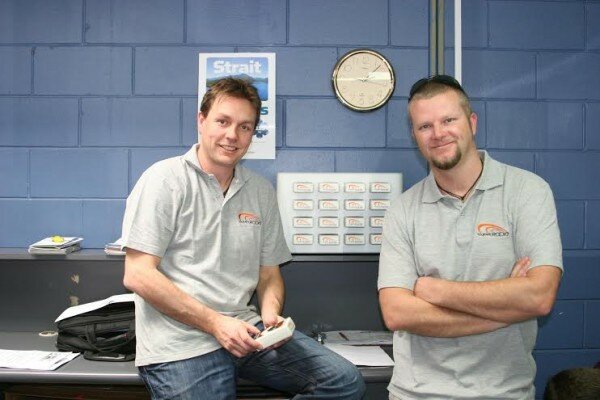 Mark Allewell (right) with incoming Tourism Radio CEO Hayden Braddock
The founder and chief executive officer (CEO) of South African audio tour guide company Tourism Radio, Mark Allewell, is stepping down from his position with the company in order to take a one-year sabbatical.
Allewell stepped down on November 1, though a period of handover to new CEO Hayden Braddock is currently ongoing until January 31, after which he plans to take a long holiday with his family.
He told HumanIPO he still expected to still be involved with the company on an "almost daily level" but needed a break after taking only 19 days holiday in the last three years.
"The reason I'm taking a year off is because I've been driving the business for nine years, four of those as CEO," he said. "Currently, I'll be more valuable to the business looking in, instead of being in the melting pot, as although we are a small team, we have projects all over the world and it is always 120 per cent. So although I'm moving away from the operations, I'll still be involved on an almost daily level, but probably from a beach in India, Turkey, Greece, wherever."
HumanIPO reported in September Tourism Radio was developing for Google Glass, despite missing its Kickstarter crowdfunding target. Allewell said the company had a busy year ahead and an injection of fresh energy was necessary.
New CEO Braddock started Tourism Radio in New Zealand, and Allewell said he was the perfect replacement.
"He's put together a fantastic business down there and really built the brand with some very big players," he said.
In an exclusive guest post for HumanIPO, to be published over the festive period, Allewell said he had spent most of this year thinking about his future with the company.
"When our investors came on board on 2006, they asked me one question that really stuck with me, "Will you know when it's time to step down?" I guess, as an entrepreneur, you do know. You realise that it's time to let other people carry on your vision. At this point, I honestly feel that my replacement will be a better CEO than I am," he said.
"Success comes in many forms. Be it your peers loving you, having bucket-loads of cash, or in my case, time – I've bought a year away with my family, travelling the world and recharging. I'm giving my family a gift that hopefully they'll cherish: a year waking up next to me every day, with no distractions."