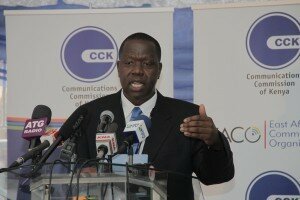 Fred Matiangi, cabinet secretary for ICT. CC image courtesy of CCK
The Kenyan government has issued a hardline stance against the country's biggest mobile operator Safaricom, saying it will not negotiate after the telecom failed to meet the minimum Quality of Service (QoS) rating by the Communications Commission of Kenya (CCK).
Fred Matiangi, ICT cabinet secretary, issued a statement saying Safaricom's licence renewal, which is due in June, will take place in accordance with checks of its quality of service to consumers.
HumanIPO reported on Tuesday Safaricom had aired its displeasure at the terms laid down by the CCK, saying the fee for the operational licence for the next 10 years – which will cost the telecom KSh2.36 billion (US$27.6 million) – "could have been applied to improving coverage and network quality".
Matiangi said it is the responsibility of the government and the CCK to ensure the Kenyan people receive quality service and it has nothing to do with "us loving or hating them and it is as clear as that."
"I don't understand why an operator would like to negotiate a licence condition. There are only two options here, either comply or step out of the business," he said.
He said he was happy with what the CCK is doing and the ministry is in full support of efforts to ensure all operators comply with the rules.
"We are going to act according to the law to ensure that the operators meet licensing conditions," said Matiangi.
HumanIPO reported on Tuesday all four mobile operators in Kenya failed to meet their compliance target for Key Performance Indicators (KPIs) for 2012-13.
All the operators however met the KPI targets in four different parameters, which include RX Level (signal strength), call set up time, handover success rate and call drop rate.