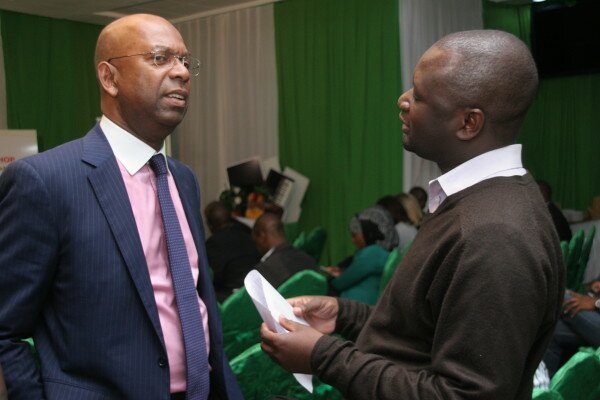 Kenya's largest mobile service provider Safaricom has aired its displeasure at the terms laid down by the Communications Commission of Kenya (CCK) ahead of its licence renewal in June 2014.
HumanIPO reported in November the CCK had officially agreed to renew Safaricom's operational licence for the next 10 years at a fee of KSh2.36 billion (US$27.6 million).
Speaking during the operator's half year results announcement, Nicholas Nganga, Safaricom board chairman, said: "I would like to use this opportunity to thank the board and management of the Communications Commission of Kenya for their formal acceptance to renew of our operating license for the next 10 years. They can be assured of receiving our licensee fee payment on time and in full."
However, Safaricom chief executive officer (CEO) Bob Collymore is unhappy with the CCK conditions, saying such funds could be better used in improving service quality.
"Our view is that punitive measures will not assist the industry to achieve better QoS (Quality of Service) measures as they will divert resources from operators which could have been applied to improving coverage and network quality," said Collymore.
The CCK last year said Safaricom had for the past three years failed to meet the minimum quality of standards threshold.
Francis Wangusi, CCK director general, said at the time: "We have had issues with Safaricom on this for the last three years plus another one firm.
"We would want Kenyans to get good service because as a commission we have invested in our resources to ensure that all the firms provide the best."
Safaricom has publicly denied the CCK audit of Key Performance Indicators (KPIs) is accurate and is calling for a more reliable technique.
"We believe that CCK can adopt a modern and collaborative methodology which will allow the operators to respond quickly and ensure customers have a good experience," said Collymore.
While launching its second Sustainability Report 2013, Safaricom dismissed the CCK's Quality of Service rating, saying the regulator's report greatly contradicts audits by an independent company.
"I wish to reassure our customers that we take very seriously the challenges put to us by the CCK with respect to our quality of service and you will be hearing more about this from the management team," Nganga said.
Safaricom believes it only failed to meet the 80 per cent limit on one KPI indicator, that of speech quality.
HumanIPO reported in October last year Safaricom was required to pay a KSh500,000 (US$5,900) fine over its inability to meet the 80 per cent KPI target.
The firm says it has invested in having the best network in the country through its KSh24.88 billion (US$293 million) 'best network' programme.