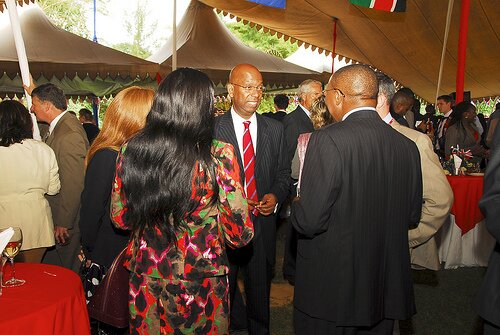 CC image courtesy of UK in Kenya On Flickr
The Communications Commission of Kenya (CCK) has officially agreed to renew Safaricom's operational license for the next 10 years at a fee of KSh2.36 billion (US$27.6 million).
HumanIPO reported in July Safaricom had been told to "up their game" by the regulator if license was to be renewed.
The CCK said that Safaricom has for the last three years failed to meet the minimum quality of standards threshold.
Francis Wangusi, CCK director general, said at the time: "We have had issues with Safaricom on this for the last three years plus another one firm.
"We would want Kenyans to get good service because as a commission we have invested in our resources to ensure that all the firms provide the best."
But speaking during the operator's half year results announcement Tuesday, Nicholas Nganga, Safaricom board chairman, said: "I would like to use this opportunity to thank the board and management of the Communications Commission of Kenya for their formal acceptance to renew of our operating license for the next 10 years. They can be assured of receiving our licensee fee payment on time and in full."
According to the last CCK Quality of Service (QoS) report, Safaricom only met half of the eight set parameters, falling far below the required compliance target of 80 per cent.
In its second Sustainability Report 2013, Safaricom dismissed the CCK's Quality of Service rating, saying that the regulator's report greatly contradicts audits by an independent company.
"I wish to reassure our customers that we take very seriously the challenges put to us by the CCK with respect to our quality of service and you will be hearing more about this from the management team," Nganga said
Safaricom says it will continue to undertake network audits on a continuous basis as it works towards the pledge to deliver the "best network in Kenya".
If Safaricom's license is renewed come June 2014, it will operate for another 10 years after which the license will be subjected to an auction where the most competitive bid will be issued with that license.