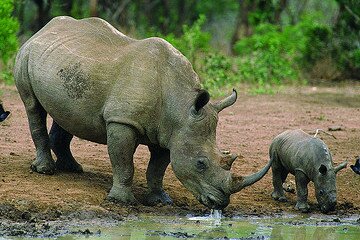 CC image courtesy of safari-partners on Flickr
World Wildlife Fund (WWF) has announced successful first-year results of testing technological solutions in Namibia to detect and prevent wildlife crime, with the illegal wildlife trade estimated to be worth up to US$10 billion annually.
HumanIPO reported in December 2012 WWF had been granted US$5 million through the Google Global Impact Awards in order to develop low-cost drones controlled by tablets, integrated specialised sensors and wildlife tagging technology to monitor wildlife in several parts of Africa.
WWF has since been working with the Namibian Ministry of Environment and Tourism (MET) in testing the new methods, which it said have been a success.
Crawford Allan, lead of the Wildlife Crime Technology Project at WWF, said: "I was inspired by what the Global Impact Award allowed WWF and MET to accomplish, we broke new ground using technologies that have never been integrated before that provide a powerful wildlife protection solution."
Field testing took place in two Namibian National Parks in November last year to assess the technologies and their capabilities.
More than one system of Unmanned Aerial Vehicles (UAVs) were tested, with MET subsequently deciding to use Falcon systems strategically in all the rhino and elephant areas in Namibia.
Meanwhile, radio-frequency identification chips have been implanted in black rhinos by the ministry, allowing remote tracking of animal movements, while ground-based sensors were implemented, including a sophisticated water point protection system with real-time secure communications via a radio-mesh network.
Manie le Roux, head of Central Parks for the MET, said it will be "increasingly difficult for poachers to score successes in Namibia."
MET's chief conservation scientist for wildlife research and national rhino coordinator Pierre du Preez said technology gave wildlife protection teams an advantage but needed to be combined with well-trained rangers on the ground able to respond rapidly to the data provided by the systems.
Technology has been utilised for the protection of wildlife across Africa, with HumanIPO reporting in October Cape Town firm FlyH2 Aerospace was creating drones to protect rhinos.
South African National Parks (SANParks) has turned to skyborne thermal imaging technologies in its battle against rhino poaching, while the Kenya Wildlife Service (KWS) has implemented new anti-poaching technology to help rangers evaluate and improve the effectiveness of law enforcement patrols in the country's national parks.
Meanwhile, the Chinese Embassy in Nairobi is sending warnings over engaging in poaching via SMS to Chinese nationals visiting Kenya as it looks to improve its image following accusations of Chinese elephant and rhino poaching.