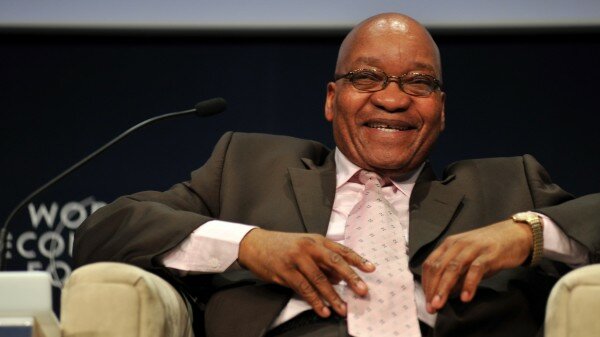 President Jacob Zuma. CC image courtesy of the World Economic Forum.
South African President Jacob Zuma used his State of the Nation Address (SONA) last night to say the country's fibre optic network will expand significantly in the years ahead, however he failed to give any details about the proposed expansion.
Zuma, speaking in Cape Town yesterday, said: "37,000 kilometres of fibre optic cable has been laid by the private and public sectors in the past five years. This will be significantly expanded in the years ahead."
Few other details were given on the expansion of South Africa's ICT sector.
"More of our wealth is created through the internet or telecommunication." Zuma said, without elaborating.
"It was a totally predictable Zuma speech – ponderous and of little consequence. There was no vision or enthusiasm expressed for the future, and only a brief and obligatory reference to the value of ICT to the economy," said shadow communications minister for the Democratic Alliance (DA) Marian Shinn.
"Despite the expressed enthusiasm for the NDP this speech indicated to me that the government doesn't really grasp the the critical role ICT plays in the development and economic growth of SA. And the complexities and costs of creating at speed a multi-stakeholder communications environment are not given their due weight in his government's strategy as it stands now. So, little confidence in the ANC-led government to drive South Africa into an internationally competitive knowledge economy."
HumanIPO reported last month on the launch of the African National Congress' (ANC) election manifesto, promising South Africans free Wi-Fi by 2020.
The manifesto states the "government will support and develop free Wi-Fi areas in cities, towns and rural areas" in order to "impact fundamentally on the economy and the connectivity of our people".
Last year the Department of Communications (DoC) gazetted its National Broadband Policy, Strategy and Plan, which aims to provide the vast majority of South Africans with internet connections.
"The overall goal is to achieve a universal average download speed of 100 mbps by 2030," a government statement said at the time.
Shinn, responding to the ANC's manifesto, said: "There is no such thing as free Wi-Fi – the costs of spectrum, installation and management are far too high – this is why those who provide it are either subsidising the provision through ratepayers and taxpayers or are being paid by commercial entities on a sponsorships basis."