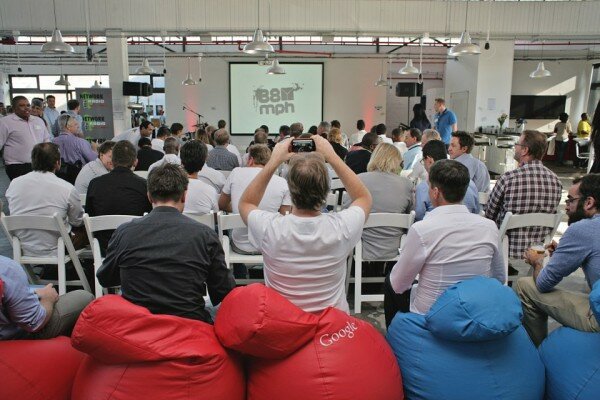 The 88mph 2012 Demo Day, held in Cape Town.
African investment fund and accelerator programme 88mph has confirmed its second Cape Town accelerator programme began last month, investing just under US$300,000 in seven startups who will also receive funding and access to business networks, mentoring and infrastructure.
88mph, which has already run two accelerator programmes in Kenya and one in South Africa, last week partnered L5Lab to create 440, which will invest in mobile and internet startups in Nigeria.
The second programme in Cape Town got underway at the beginning of February, though the announcement of the successful startups was delayed in order to the completion of necessary paperwork.
They have now been confirmed as appointments service diarize.me, event dating app Catch, pet food delivery service Pet Heaven, property rental marketplace Ekaya, big data and mobile commerce service Graphflow, insurance premium receipting and allocation firm Byte Money, and premium ad network 8Bit.
"We are four weeks into our 2014 Cape Town programme. This year we've invested in seven businesses from various sectors – pet food to dating, ad networks to cash collection. Right now the teams are working hard to release beta versions of their products to get market feedback," said programme manager Dan Bowyer.
The accelerator programme assists startups with early stage investment, before providing access to business networks, mentoring, technical infrastructure and workspace, with a Demo Day on April 16 allowing them to pitch their products to investors for further funding.
"We're blown away by the talent, drive and determination from this year's intake, and have high hopes for their ongoing success," said Bowyer. Two of the teams are already in detailed 'follow on' investment talks which is unusual at this early stage. We're supremely pleased and proud of all of them."
88mph managing director (MD) Kresten Buch told HumanIPO in this investment round the fund had invested in startups which had made slightly more progress than those usually chosen by 88mph, with 50 per cent having paying clients and all but one having launched a product prior to joining the programme.
"It is still early days and many things need to be proven for the businesses to grow, but we are excited founders want us to invest in them even if they are up and running, and in many cases we feel we and our network can add more value to them in this phase compared to if they just show up with an idea they dreamed up the day before," he said.
Justin Melville, founder of Ekaya, said: "We didn't really understand what an accelerator was until we started at 88mph. 88mph has been like a lightning rod for us, the people, energy and momentum from the programme has been incredible, literally game-changing."
"88mph's strategy in Africa is to fund strong teams with great mobile-web ideas that have the ability to scale across emerging markets," said Bowyer.