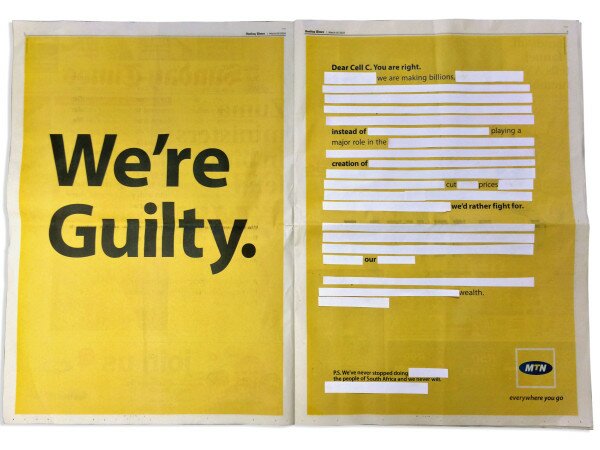 South African operator Cell C has hit back at rival MTN in the latest blow in their public advertising battle, altering MTN's advertisement published on Sunday resulting to form a scathing text about MTN.
HumanIPO reported yesterday MTN took out a two page advertisement in national newspaper the Sunday Times, sarcastically admitting "We're Guilty" of both making millions and re-investing it in the economy, and listing a range of contributions the company has made to the South African communications sector.
MTN also aimed a blow at the quality of Cell C's network, saying SOuth Africans "deserve a network that works".
Cell C responded to the advert today, sending out an altered version of MTN's advertisement, with a number of words blocked out from the ad to create an alternative text.
"Dear Cell C. You are right. …we are making billions, … instead of … playing a major role in the … creation of … cut … prices."
"We'd rather fight for … our wealth.
"P.S. We've never stopped doing … the people of South Africa and we never will."
The battle of advertisements started with Cell C launching a campaign over YouTube and radio accusing MTN of opposing the newly introduced mobile termination rates (MTRs) regulations only due to fear of lower profits and more competition.
MTN made a claim to the Advertising Standards Authority (ASA) over the campaign, which ruled in favour of MTN and ordered Cell C to remove the ads.
MTN thereafter took out its own campaign on Sunday, resulting in today's rebuttal.