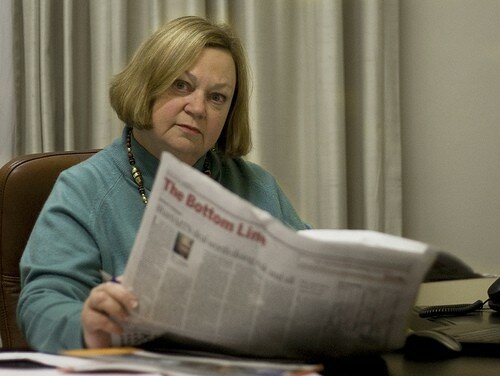 Marian Shinn. Image courtesy of The Democratic Alliance.
The non-executive chairperson of the South African Broadcasting Corporation (SABC) Ellen Tshabalala must resign over a speech she made yesterday urging people to vote for the ruling African National Congress (ANC), according to Democratic Alliance (DA) shadow minister of communications Marian Shinn.
In a speech in KwaMashu, north of Durban, yesterday, Tshabalala, who is meant to be non-partisan, told residents to vote for the ANC rather than any of the opposition parties, which include the DA,
Shinn said Tshabalala's reported remarks "seriously undermine the political neutrality of the public broadcaster".
"These remarks further illustrate Ms Tshabalala's unsuitability for the post as chairperson of the SABC board. President Zuma appointed her interim chairperson a year ago and then, when the new board was established in October last year, he appointed her as chairperson," Shinn said.
"It is clear from her most recent remarks in support of the ANC that… Ms Tshabalala is still unable to grasp the basic responsibilities of her position."
She called upon the SABC chair to resign immediately and apologise to South Africans for her remarks.
"Failing that I will write to the President asking him to remove her from office," Shinn said.
She listed a host of further reasons why Tshabalala, in her view, should resign from her post.
"During her tenure the board approved the ethically and financially dubious deal for SABC's 24-hour news and entertainment channels to be flighted on DStv. Earlier this year, she automatically leapt to the defence of SABC's executive management that was exposed by PwC's skills audit for being without the required qualifications, experience and strategic management skills for their posts," she said.
"This was followed in February by remarks in the public protector's report "When Governance and Ethics Fail" that the SABC board "appears to have blindly sprung" to acting COO Hlaudi Motsoeneng's defence."