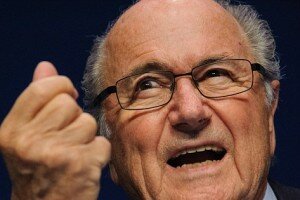 FIFA president Sepp Blatter had his twitter account hacked by the the Syrian Electronic Army. (www.dailymail.co.uk)
Sepp Blatter, the controversial president of football's world governing body FIFA, appeared to go on a bizarre Twitter rampage last night, ultimately resigning, before it emerged his account had been hacked.
The Syrian Electronic Army has since claimed responsibility for the high-profile hijacking. Blatter has almost 400,000 followers.
The hackers' first tweet was in reference to Blatter's role in awarding the 2022 World Cup to Qatar. 
@SeppBlatter tweeted: "So what if I took money from Qatari prince? I am the family's bread earner"

There were further tweets suggesting foul play by Blatter and the official FIFA World Cup account was then also hacked and retweeted by 'Blatter', saying that he had resigned.
The @FifaWorldCup twitter account added: "It was decided that the president Sepp Blatter is to step down due to corruption charges"
The false tweets have now all been removed.
The Syrians appeared to have control over both accounts for at least half an hour and FIFA were forced to report through other means that the accounts had been hacked as they struggled to regain control.
A FIFA statement said: "We can confirm that some of FIFA's twitter accounts, including the account of the FIFA President and @fifaworldcup, have been hacked.
"We are looking at this issue at the moment. In the meantime, to avoid any doubt, we kindly ask you to verify and check any statements that you see on a FIFA twitter account with the FIFA Media department ([email protected])."