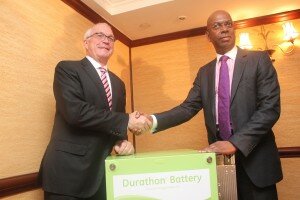 GE CEO Jay Ireland with Safaricom CEO Bob Collymore after signing the deal
Safaricom has become the first telecommunication company in the world to procure General Electric's Durathon batteries to provide backup power to its transmission sites.
The deal that cost the integrated communications provider KSh96.3 million(US$1.15m) will see Safaricom receive 48 batteries for use in 25 sites in Nairobi's central business district.
Safaricom says the batteries will help mitigate loss of business arising from frequent blackouts in the country which averages at around four hours a day.
Jay Ireland, chief executive officer for General Electric (GE) Africa, said the Durathon Battery offers more value for money with better output than the lead acid batteries currently in use that offer a backup time of up to three hours compared to 10 hours by the GE's battery.
The new batteries have five times cycle life and are 90 per cent recyclable which the company adds is a concern for environmentalists and companies which are willing to go green.
The battery that has been in development for the past decade will also be attractive given it has a return on investment period of just three years.
"Durathon battery technology is one of the first batteries in the world to be designed specifically for charge discharge cycling (CDC) operating mode, fuel cost and emissions can be substantially reduced and overall system efficiency dramatically improved," said Ireland.
Thibaud Rerolle, Safaricom's chief technology officer, said the battery will further enable remote monitoring, increase holding time and reduce operational costs associated with running of diesel generators with a single generator said to consume 35 litres every 24 hours.
Above all, Rerolle says the batteries will allow the company to provide backup to sites on top of buildings most of which landlords have refused due to the use of diesel powered generators.
GE says it expects to increase sales of the batteries to telecommunication companies in South East Asia, South Asia and Africa where power outages are common.