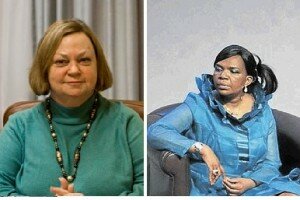 Marian Shinn (www.da.org.za) and Dina Pule (www.timeslive.co.za).
Marian Shinn, shadow minister of communications for the Democratic Alliance, says Dina Pule, South Africa's communications minister, must stop trying to set herself up as a victim of reports portraying her in a negative light.
HumanIPO reported earlier today the Sunday Times rubbished Pule's claims that three of their journalists are part of a campaign against her.
In a statement, Shinn has said Pule "must desist from trying to create the impression that she is a victim of blackmailers who are concocting allegations of misconduct and corruption against her and her romantic partner Phosane Mngqibisa".
Pule held a press briefing in which she accused the Sunday Times of blackmailing her with a "smear campaign".
The press briefing came ahead of her parliamentary hearing set for next week, which will investigate her conduct.
Shinn asks the question if Pule is innocent and is indeed being blackmailed, "why has the minister not asked the police to root out these blackmailers?"
"She has indicated she would report the Sunday Times to the press ombudsman. However, Mr Mngqibisa had already reported the Sunday Times to the press ombudsman last year, which has led the revelations about the relationship and its suspect motives.
"The ombudsman ruled on December 10, 2012, that the Sunday Times was justified in its reporting of Ms Pule and Mr Mngqibisa's relationship and dismissed his complaint," said Shinn.
Shinn added: "I suspect the minister is trying to whip up public sympathy ahead of next week's hearing which will thoroughly examine her relationship with Mr Mngqibisa and his involvement in last year's ICT Indaba, which was hosted by the Department of Communications (DoC)."
Shinn said Pule tried a "similar tactic" before the African National Congress' (ANC) elective conference in Manguang last year with a "dubious report" by Pedlar, Compion, Henderson and Associations, forensic auditors, which apparently cleared Pule of any wrongdoing or the misuse of the ZAR10 million (US$1.081 million) the DoC spent on the ICT Indaba.
However, the amount of money spent on the ICT Indaba was not the subject of the allegations against Pule and her alleged romantic partner.
"If last year's shabby attempt at 'clearing' the minister was meant to boost her chances at Manguang, it backfired and she was not re-elected to the ANC's National Executive Committee (NEC)," said Shinn.
"Minister Pule's pathetic shots across their bows to appeal for public sympathy are unlikely to sway their considered findings," concluded Shinn.