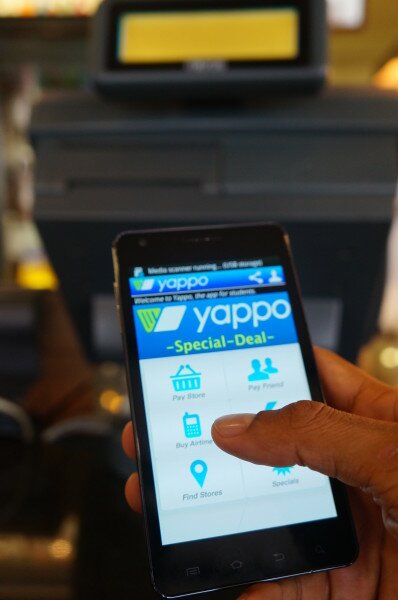 Image courtesy of Yappo.
South African student-focused mobile payment app Yappo is looking for second round investment in order to continue its operations.
HumanIPO reported in April this year on the launch of Yappo's #freelunch campaign.
Targeted at students, the app enables convenient mobile payments, but has run to an almost standstill having run out of money.
The startup secured its first round of funding from UK-based Mamba Group at the end of last year, which allowed it build its concept, but a second round of funding is needed to scale and continue.
Yappo was launched as a mobile version of the web-based platform Studentology.
After its confirmed partnerships with Kauai, Vida e Caffe and PicknPay, the product was successfully launched.
Stuart Minnaar, founder of Yappo, explained 1,300 users were gained during its campus launches from which useful data analytics were derived.
"There was a 70 per cent return on the amount of downloads received," he told HumanIPO.
Further investment is needed to continue further rollout for the product.
While there are multiple players in the space of mobile payments such as GustPay, he feels Yappo has an edge with its student focus.
Minnaar believes the most important thing startups should be prepared for is a level-headed investment approach.
"They should be investment-ready," he said.
Making business operations foolproof by running through government policies and other important aspects should be considered prior to proceeding, with further engagements said to be essential for startup entrepreneurs.
Having recently attended a course on investment at the University of Cape Town (UCT)
Graduate School of Business (GSB), as presented by Knife Capital and Angel Hub, Minnaar emphasised the importance for entrepreneurs to be wise when it comes to investments.
"It's making me realise how far away entrepreneurs are from being investment-ready," he said.
The importance of good press relations is a focus point for startups, as making "noise" is significant to getting the product or service out there.
Minnaar will be part of the entrepreneurial hackathon StartupBus Africa trip, to occur in November.
He sees his future as an entrepreneur as inevitable, as he feels the drive is "in [his] blood".
"Most people think you become an entrepreneur, but everybody has an inner entrepreneur," he said.
Every time someone thinks about making something better or more convenient, a spark of entrepreneurship occurs, Minnaar explained.