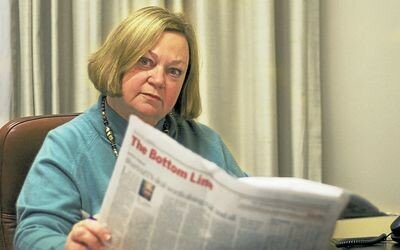 Marian Shinn. Image courtesy of the DA.
South African opposition party the Democratic Alliance (DA) has demanded communications minister Yunus Carrim take action after the South African Broadcasting Corporation's (SABC) annual report revealed ZAR1.58 billion (US$158 million) of undocumented expenditure and ZAR106.3 million (US$10,600) of irregular expenditure.
According to the DA, the SABC's annual report for 2012-13 shows "financial mismanagement and poor performance at the South African Broadcasting Corporation (SABC) continues unabated".
As such, the party has asked Carrim to detail the steps he will be taking to change the performance of the state broadcaster.
"For the past six years, the SABC has lurched from crisis to crisis with no sight in end. The time for action is now," Marian Shinn, shadow minister of communications, said.
"The SABC has the potential to be a public broadcaster that holds the pride of South Africa. It is in dire need for effective leadership and a capable board to become this. Minister Yunus Carrim must roll up his sleeves and steer the SABC into calm waters."
Auditor-general Terence Nombembe also highlighted a number of "significant issues" in the SABC report, including the ZAR1.58 billion expenditure lacking supporting documentation, ZAR106.3 million of irregular expenditure, and the failure to collect ZAR913.8 million (US$91 million) in television licence fees.
Nombembe said the broadcaster's financial statements do not adhere to reporting standards or legislative requirements.
This was followed by confirmation from SABC group chief executive officer (CEO) Lulama Mokhobo that the broadcaster had missed its performance targets as set out in the government guarantee. In particular, sponsorships fell by 50 per cent and sale content by 66 per cent, with advertising revenue coming in four per cent below budget.
In addition to requesting action on the SABC's performance, the DA has also suggested the appointment of SABC chief operating officer (COO) Hlaudi Motsoeneng may have been unlawful, and has asked Carrim to investigate the issue with a view to removing Motsoeneng from his position.
"Under Motsoeneng's tenure the management, staffing, financial and editorial crises have escalated rather than improved," said Shinn.
HumanIPO reported last week the DA had written to Ellen Tshabalala, chairperson of the SABC interim board, to request Motsoeneng does not implement his proposal that 70 per cent of news bulletins carried by the broadcaster involve "good news".