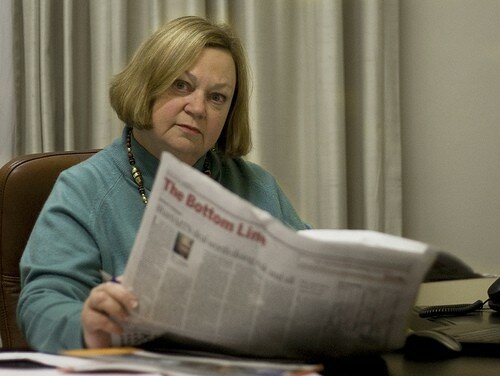 Marian Shinn. Image courtesy of The Democratic Alliance.
South African opposition party the Democratic Alliance (DA) has asked President Jacob Zuma to refer the issue of the South African Broadcasting Corporation's (SABC) annual report to the country's Special Investigation Unit (SIU).
HumanIPO reported on Tuesday that among a number of discrepancies highlighted in the annual report by the auditor-general was the inability to account for ZAR913.8 million (US$91.6 million) in television licence fees.
While Lulama Mokhobo, group chief executive officer (CEO) for the SABC, denied the veracity of this figure, the DA insists a formal investigation should be launched, given this denial directly contradicts the findings of the Auditor-General.
"It is unacceptable that the SABC is unable to account for TV licence fees of almost R1 billion [US$100.3 million]. South Africa cannot be expected to continue pay licence fees to fund the SABC, if this funding will simply disappear into the ether," said Marian Shinn, shadow minister of communications.
"South Africans, who for many years have been loyal customers of the public broadcaster, are increasingly irritated by the SABC perpetual board, management and financial crises."
The SIU – which is mandated at the request of the president to investigate serious maladministration, unlawful spending of public money and unlawful actions of state employees – recently submitted a report to the president with its findings following an investigation into allegations of corruption at the SABC between 2005 and 2009.
The DA demands a new investigation be requested by the president, but also, that this latest report be presented to parliament, as the DA says the president has as of yet failed to share the findings of the SIU.