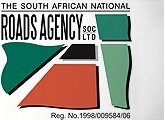 The auditor-general (AG) has declared the South African National Roads Agency (SANRAL) fairly presented its financial statements for the year that ended in March, but highlighted certain non-compliance issues.
The report also pointed out that the delay in the implementation of the high profile Gauteng Freeway Improvement Project – commonly referred to as e-tolling – had not impacted negatively on SANRAL's going concern status.
The state-owned company said in a statement the AG had raised issues over ZAR3.3 billion (US$330 million) in irregular expenditure which deviated from legislated processes, with ZAR2.4 billion (US$240 million) of that awarded using a benchmarking instrument to determine the "most realistic lowest acceptable price".
"SANRAL has identified additional processes to clarify any technical issues with compliance matters. Essentially, existing processes need to be formally recorded to prove compliance to the satisfaction of the Auditor-General," Inge Mulder, SANRAL's chief financial officer (CFO), said.
The AG report showed the the way handled the procurement of management contractors was not compliant with the letter of the law.
Mulder acknowledged that the deviation from the regulations had not been approved by the minister of finance, though SANRAL had submitted an application for exemption.
She also noted the figures contained in SANRAL's financial statements would not have differed from those reported even if these highlighted factors had been absent.
Democratic Alliance (DA) shadow minister of transport Ian Ollis, however, said the handling of its financial statement was yet more proof of SANRAL's attitude to the law.
"SANRAL has repeatedly demonstrated that it views itself above the public by forcing e-tolling in Gauteng despite widespread opposition," he said. "The entity has now demonstrated that it also believes that it does not have to adhere to financial mismanagement policies and legislation."
He said SANRAL was not above the law and should be held accountable.
HumanIPO reported earlier this week credit rating agency Moody's had downgraded SANRAL's long-term issuer ratings over a fall in cash flow related to the controversial e-tolling project.
SANRAL spokesperson Vusi Mona subsequently told HumanIPO the company retained the support of the South African government and that it was confident it could avoid a further downgrade.