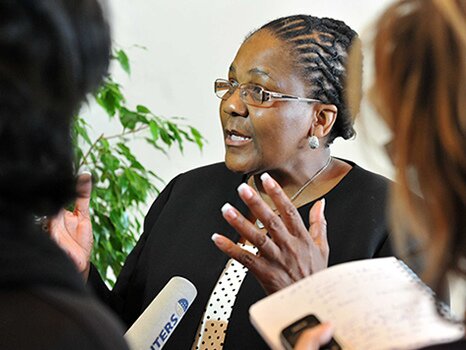 Dipuo Peters. CC image courtesy of GovernmentZA on Flickr.
Gauteng motorists support the controversial e-tolling system on the province's freeways, according to Dipuo Peters, transport minister in South Africa.
HumanIPO reported earlier today on Peters' statement that e-tolling could be implemented within a month after president Jacob Zuma signed the Transport Laws and Related Matters Amendment Bill into law.
Peters spoke on SAfm's AM Live, where she said only a few people are opposed to the e-tolling system.
"It is a few people who have spoken out and have gone to court, but the majority of South Africans are law abiding citizens who want world class roads and who would want a Gauteng which is the financial capital of South Africa, to have quality roads," said Peters.
Regarding the fuel levy, which has been proposed as an alternative to the e-tolling system, Peters said: "It is unfair for us in Gauteng to expect that somebody in Kuruman, somebody in Springbok (both in the Northern Cape)… to pay for roads in Gauteng."
She said the users of Gauteng specific roads should be the ones to pay for the roads. According to Peters, more than 600,000 people registered for e-tolling in Gauteng.
"We believe that when the decision was made to sign the legislation into law, people became aware that it is important to go and register," said Peters, adding she would like to extend her appreciation and congratulate those who have already registered.
Since the bill was signed into law, Peters has urged all motorists in Gauteng to register for e-tolling and purchase e-tags.