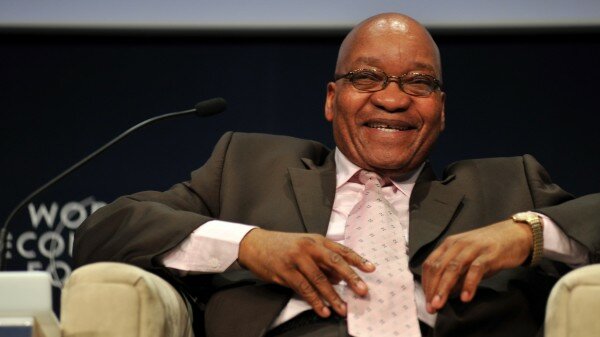 President Jacob Zuma. CC image courtesy of the World Economic Forum.
South African President Jacob Zuma has signed the controversial Transport Laws and Related Matters Amendment Bill into law, paving the way for e-tolling amid complaints from the opposition.
In a statement, the Presidency said the act would facilitate the upgrade and development of the transport infrastructure and public transport.
"In effect the Act will provide more effectively for the collection of toll; to amend the Cross-Border Road Transport Act, 1998 (Act No. 4 of 1998), to empower the Cross-Border Road Transport Agency to collect toll on behalf of SANRAL…," said the Presidency.
The move was strongly criticised by the opposition Democratic Alliance, who said Zuma had "insulted" South Africans by signing the bill on the same day the Opposition to Urban Tolling Alliance (OUTA) was having its appeal against e-tolling heard at the Supreme Court of Appeal.
Shadow minister of transport Ian Ollis said Zuma could have waited for the court's ruling on the matter, and that his signing of the bill was "therefore premature and disrespectful of the judicial process".
"It must be viewed as nothing more than a clear message to the country that he does not care about the wishes of the people of Gauteng," Ollis said.
"Indeed, he has not only given support to a policy that faces widespread opposition, but one that will hit the poorest the hardest by increasing the price of doing business, resulting in food price increases and inevitably will undermine economic growth and job creation."
E-tolling has been a contentious issue in the country, with the Freedom Front Plus (FFP) party recently declaring victory in the battle against as Zuma was yet to sign the bill.
SANRAL spokesperson Vusi Mona told HumanIPO earlier this month e-tolling was government policy and would be implemented, saying it would allow the funds to be diverted to social welfare.
Mike Maritz, representing OUTA, told the Supreme Court of Appeal yesterday that e-tolling was not the only option for SANRAL, with legislation allowing it to explore alternative options to e-tolling.
"Even bound by the Cabinet decision they still had to follow the procedures of the act," Maritz said in reply to a question by Judge Fritz Brand.