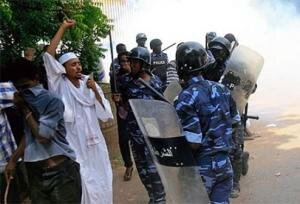 CC image courtesy of Pan-African News Wire File Photos on Flickr
A social media activist has been arrested in Sudan following recent protests over fuel hikes in the country as a result of lifted fuel subsidies.
According to her husband, World Bank employee Dalia El Roubi is alleged to have been picked up eight security officers.
"As of today we have no clue as to her whereabouts or where she is staying or her condition," Abdelrahman Elmahdi told AFP.
Elmadhi said the security officers detained her fellow activist and friend, Rayan Shaker, without giving reasons for the arrest.
He added his wife does not have any affiliation with any political party, saying she is just part of the youth movement.
Elmadhi also said security officers seized a video camera and a small digital camera from their house.
So far no comment has been made by the Sudan office of the World Bank regarding the abduction.
HumanIPO reported on Monday how internet access in Sudan had been restored after more than 24 hours of downtime caused by a blackout believed to have been ordered by the government.
Protests over the lifting of fuel subsidies have been ongoing since last week, beginning in the capital Khartoum, with the global community criticising the crackdown.