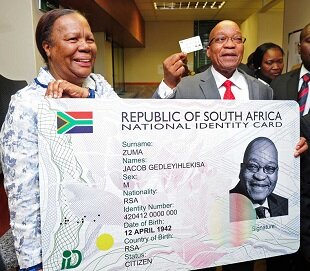 Naledi Pandor and Jacob Zuma. CC image courtesy of GovernmentZA on Flickr.
South African Cabinet ministers and premiers yesterday applied for their smart ID cards in Pretoria, following the opening of three new Home Affairs offices to facilitate the migration from the current green bar-coded ID book.
Offices in Pretoria, Johannesburg and Cape Town have been renovated to accept applications for the smart ID cards, as part of the department's plan to unveil more offices across the country to roll out the cards to the public.
Minister in the Presidency responsible for the National Planning Commission, Trevor Manuel, said it felt good to be part of the first generation to receive the new cards.
"The smart ID card is a big step forward. It takes us into the next generation. It's very important that we use the identity system and ensure that it is free from corruption…" he said.
Northern Cape premier Sylvia Lucas said she was impressed with the efficient application process, and praised officials for helping to ensure applicants understand the process.
"Today is a culmination of all the struggles that women went through… It is a very simplified way in which you can identify yourself as a South African citizen, and it's something we should be cheering about…" Lucas said.
HumanIPO reported earlier this week Mkuseli Apleni, the director-general of the Department of Home Affairs, had appealed to South Africans to exercise patience as the new regional offices open up and to wait for announcements and invitations before attempting to apply for the new smart ID cards.
Minister Naledi Pandor has said the new ID cards will assist the Department of Home Affairs in solving identity problems in South Africa.
The implementation costs of the smart ID card system are approximately ZAR5.34 billion (US$530 million). The smart ID cards were launched on Mandela Day (July 18), with the first batch issued to prominent South Africans.