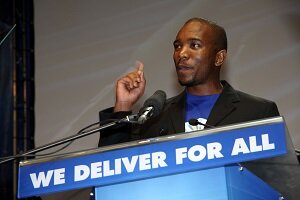 Mmusi Maimane, DA premier candidate for Gauteng. CC image courtesy of the Democratic Alliance on Flickr.
President Jacob Zuma should withdraw his statement regarding the e-tolling of Gauteng's freeways, according to Mmusi Maimane, the Gauteng premier candidate for the Democratic Alliance (DA).
HumanIPO reported earlier today on Zuma's statement at the African National Congress (ANC) manifesto forum, in which he said: "We can't think like Africans in Africa. It's not some national road in Malawi."
Maimane said Africans are not backward, thus Zuma should withdraw the comment.
"The president was saying we must welcome e-tolls and pay up because new freeways have been built in Johannesburg. What the president doesn't realise is Africa is actually developing at a faster pace than he suggests," said Maimane.
"Many governments in African countries have adopted investor friendly policies that create jobs. They are not burdening [their] citizens with double taxation through an expensive e-tolling system."
Maimane said Zuma would do well to learn from African countries with economies growing faster than that of South Africa. He said Zuma did not think about this when he signed the controversial e-tolling bill into law.
"Mr President, we are not being backward when we say we can't afford e-tolls. Your claim that working class people with cars can afford tolls is false," said Maimane.
Maimane said Zuma should scrap e-tolling, which he described as a "backwards and expensive system", instead of insulting South Africans.