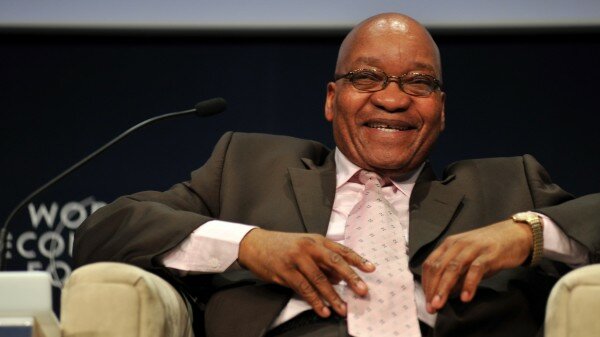 President Jacob Zuma. CC image courtesy of the World Economic Forum.
The South African Presidency has termed media reports of president Jacob Zuma calling Africans backward as a distortion.
HumanIPO reported earlier today on Zuma's comments, which Mmusi Maimane, the Gauteng premier candidate for the Democratic Alliance (DA), said were an insult to South Africans who cannot afford to pay for the controversial e-tolling system.
The various media outlets reported Zuma as saying: "We can't think like Africans in Africa. It's not some national road in Malawi". This, according to Presidency spokesperson Mac Maharaj, was taken out of context.
"The presidency has noted reports in certain media, suggesting that president Jacob Zuma insinuated that Africans were backward… The words have regrettably been taken out of context and blown completely out of proportion," said Maharaj.
In addition to the Malawi comment, Zuma also mentioned Pietermaritzburg in KwaZulu-Natal and Rustenberg in the North West province, among others.
Maharaj said Zuma made this statement to highlight the fact that it would not be fair "to expect Gauteng roads to be compared to roads in other towns such as Pietermaritzburg, Rustenburg, Polokwane or any other town or national road in Malawi as this was Gauteng, the heartbeat of South Africa's economy and an international city of commerce and business."
Regarding proposed alternatives to e-tolling, Zuma said: "It is not fair to make the whole South Africa pay for Gauteng's road use by taxing everyone's petrol more. We thank all citizens who have registered for the e-tolls so that we can continue to improve roads and boost economic growth in Gauteng."
The ANC also tweeted:
#ANC holds the people of Malawi & elsewhere on the continent in high regard: https://t.co/90hZsJQDSK

— ANC Info Feed (@MyANC_) October 22, 2013
The President drew parallels between Johannesburg & Polokwane, Rustenburg, Umngungundlovu, Danhauser & many other parts of the country

— ANC Info Feed (@MyANC_) October 22, 2013
It was within this context that the President called on residents of this province to not think & act like others in the country & continent

— ANC Info Feed (@MyANC_) October 22, 2013