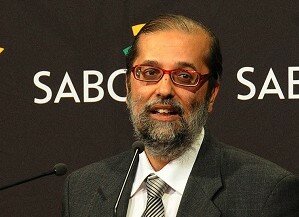 Yunus Carrim. CC image courtesy of GovernmentZA on Flickr.
The South African government has not yet made a decision on whether set-top boxes will include a conditional access system, a matter which communications minister Yunus Carrim says still needs to be properly debated.
Carrim said in parliament today a full digital policy review including the issue of whether or not set-top-boxes for the forthcoming migration to digital terrestrial television will feature a conditional encryption system is a complex issue, which requires consideration and input from a number of governmental departments.
Cabinet ministers have not yet had the chance to read all proposals and come to a decision on the matter, Carrim said.
The minister's comments came in response to Democratic Alliance (DA) shadow communications minister (MP) Marian Shinn's questioning as to whether the South African Broadcasting Corporation (SABC) is in a position to take a unilateral decision on set-top box access systems.
The SABC announced last week it would not be implementing conditional access on set-top boxes but would remain a free-to-air broadcaster, in line with its role as public broadcaster.
The announcement was met with criticism from the DA, with Shinn accusing the SABC of attempting to bypass government policy by making announcements of unilaterally made decisions.