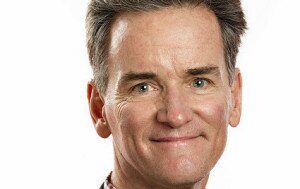 Dave Geary, president of wireless at Alcatel-Lucent.
Alcatel-Lucent is focusing its investment on LTE and cutting the money it puts into 2G and 3G, as it looks to be first to market to gain a larger market share.
Dave Geary, president of wireless at Alcatel-Lucent, told the Alcatel-Lucent Technology Symposium in New Jersey, United States, that LTE networks were "growing in unanticipated ways" and the company was focusing its attention on LTE in order to beat its competitors to a larger share of the growing market.
"Operators are investing in ultra broadband to get a competitive advantage," he said. To those of us that use LTE it is undeniable that the quality of service is much better. It is undeniable that the adoption of the technology is growing and is exceeding expectations."
He said that this translated into the opportunity for profitable growth, with a particular opportunity for those that are first to market. For this reason, he said Alcatel-Lucent was cutting investment in 2G and 3G and looking to the future.
"You don't want to be spending money on old technology, you want to be spending it on the future," Geary told HumanIPO on the sidelines of the conference. "2G and 3G have not been strongholds for us. It is in our advantage to cut investment there as soon as we can. Why invest in something that is well through its growth phase?"
The manufacturer and network specialists launched West Africa's first commercially available LTE network in Ghana in July this year, in partnership with Surfline Communications, while it has also been working on 4G services with Smile Communications in Tanzania and completed superfast broadband trials with Tunisie Telecom in North Africa.
HumanIPO reported last week Alcatel-Lucent had partnered with data-only specialists YooMee to provide Cameroon with its first LTE network in the first quarter of 2014.
Geary said these investments formed part of Alcatel-Lucent's broader strategy.
"Opportunities are moving to LTE and whoever gets there first has the opportunity to do very well," he said. "We have single purpose on this, and that is around LTE, and scaling that."
He said though there was still a long way to go, Alcatel-Lucent was in a strong position in terms of obtaining a strong position in the LTE market.
"I think we are getting better placed, and you have to make that judgement based on what you see," Geary told HumanIPO. "The game is far from over. We are in the third innings here. There is a long way to go. That is going to take a long time, so we are not declaring victory, we know we have work to do."
LTE networks are on the increase globally, with HumanIPO reporting in July a report compiled by the Global Mobile Suppliers Association (GSA) expected another 18 countries to obtain LTE networks by the end of 2013, although it is not clear whether any of those will come from Africa.
It predicts that by the end of the year there will be 260 live networks across 93 countries.
HumanIPO also reported in July earlier this month Huawei had already built 44 LTE networks in Africa, although the majority of those lie dormant, with operators holding back on going live until market conditions are right.
LTE networks have gone live in South Africa, Namibia, Uganda, Angola, Ghana, Cameroon, Mauritius and Tanzania, while MTN Nigeria plans to launch its own network next year and Somalia has also issued its first LTE licence.
At the same event, Alcatel-Lucent chief executive officer (CEO) Michel Combes reiterated the company's focus on LTE as the technology of the future.
"LTE is the infrastructure that is the priority, and there is an opportunity to focus on LTE as much as you can," he said.
"I want to orchestrate a refocus of our energies on 4G. We have agreed with most of our big customers roadmaps of what is still to be achieved in 2G and 3G, and the rest of our resources will be shifted to give us a competitive edge in 4G."