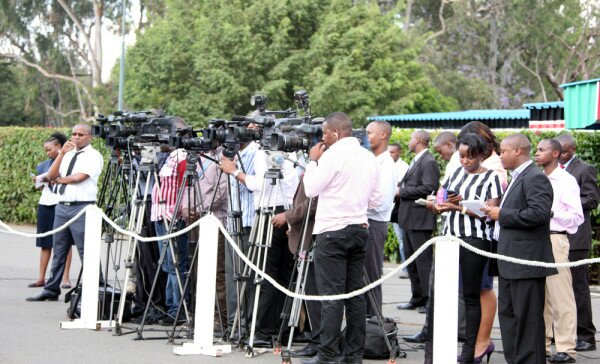 Kenya's National Assembly concluded the latest debate on the Media Council of Kenya Bill 2013 yesterday (Tuesday), which, if passed, will see the government take closer control over news content and journalist ethics.
Legislators have until December 5, 2013, to introduce amendments to the bill to ensure it guarantees an independent media and freedom for journalists.
The Media Council Bill 2013 seeks, among other things, to repeal the Media Act by expanding the scope and power of the council's Complaints Commission to hear and determine disputes lodged against media enterprises and practitioners.
Members of parliament (MPs), while debating, declared the bill will ensure professionalism in the industry because it provides for the accreditation of both local and foreign journalists by the council.
"We want to kill the notion that this House wants to gag, wants to fight the media. We want to create the best media law in the region and the world," Adan Duale, majority leader, said.
The proposed amendments, according to the House Committee on Energy, Information and Communication, include a move to give the Media Council of Kenya the power to register newspapers and a two-year maximum jail-term or a KSh10 million (US$116,000) maximum fine for anyone who distributes, prints or even imports newspapers that are not licensed by the council.
Priscilla Nyokabi, Nyeri County woman representative, said: "As far as possible this the parliament has to avoid chilling the media, when we have the fines like the ones we saw in the Kenya Information and Communication Amendment (KICA) Bill going up to KSh20 million (US$232,000) that is chilling media, when we have a chilled media we are going to suffer lack of information."
There is also a proposal to jail people found consuming unlicenced publications for a maximum of two months or fine them a maximum of KSh10,000 (US$116), or both.
James Rege, Karachuonyo MP, said the Media Council Complaints Commission will be better handled by the Communications and Multimedia Appeals Tribunal which is proposed in the KICA bill.
"We don't have to have the Tribunal under the KICA Bill and a Complaints Commission under this Bill. We propose to delete the commission and replace it with the Tribunal which will take care of the duplication of roles," Rege said.
HumanIPO reported last month the house committee had tabled the report, in which it sought to deny the government power to make regulations on the recommendation of the Media Council and instead hold exclusive monopoly on setting the code of conduct for journalists.