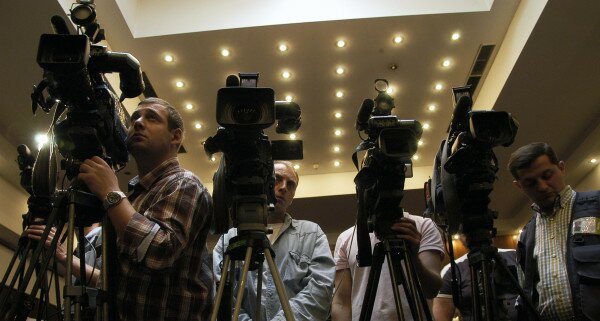 CC image courtesy of Congress of local and regional authorities on Flickr
Kenya's media industry has recommended 12 amendments to the controversial Media Council Bill to the Energy and Communication Committee ahead of the December 5 deadline.
Representatives of media owners, editors and journalist unions said media freedom may disappear if the industry operates under the heavy influence of the government as the bill provides.
HumanIPO reported on Wednesday that Kenya's National Assembly concluded debate on the Media Council of Kenya Bill 2013 and were awaiting introduction of amendments to the bill to ensure it guarantees an independent media and freedom for journalists.
The stakeholders proposed changes and removal of clauses which threaten independence of the media council.
The media players first opposed the proposed clause which stipulates Fred Matiangi, cabinet secretary for ICT, would have full control of the recruitment process of the members of the council and amending and implementing the professional code of conduct for media professionals.
Grace Munjuri, chair of the Ethics and Public Information Committee Media Council, said: "It is important to maintain the independence of the council from government interference in order to ensure that the institution functions effectively to the expectations of Kenyans."
The Media Council also proposed the membership structure of the council to have nine members, rather than the seven previously suggested and the selection panel constituted by media stakeholders.
The group also wanted to be given sole power of coming up with regulations for the setting of standards relating to professional education and training of journalists.
"It is long overdue for quarks in the industry to be weeded out by empowering the council to set training standards and accredit journalism training institutions as well as approving their curriculum," said Munjuri.
The stakeholders also sought changes that include the inclusion of an independent complaints commission within the Media Council to resolve complaints against media houses and journalists.
David Ohito, the Kenya Editors Guild vice chairman, said the Bill must bear robust provisions to protect the interests of journalists.
He said only the Media Council and not any other extraneous body can enforce the code of conduct.
Ohito said the discussion with the MPs is a good sign, but urged the President to return the Kenya Information and Communication bill (KICA) 2013 to parliament for them to make their contributions.
"We also urge the President to speedily return the KICA Bill back to Parliament to enable media stakeholders participate in its review. KICA remains a big threat to media freedom in Kenya," he said.
HumanIPO reported earlier this month Kenyatta will return the contentious media bill back to parliament when he officially receives it.