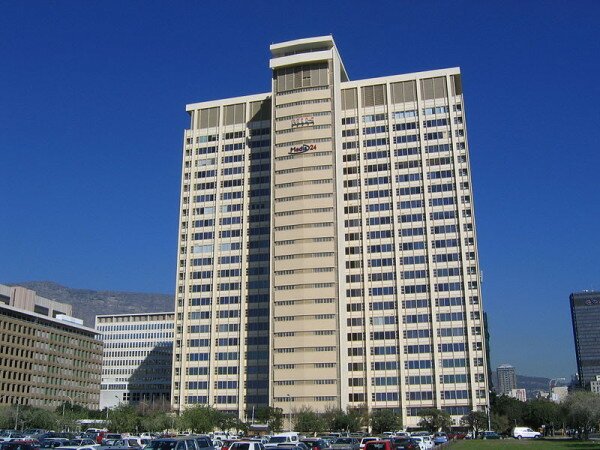 The Naspers office in Cape Town, South Africa.
Naspers, the 98-year-old South African multimedia and internet company, released its half year results yesterday, showing stunning growth across its online businesses, but little credit was given to any of its Africa-based operations.
While investing heavily in emerging markets around the world, Naspers headline investments during the past 12 months have predominantly been in countries and regions outside of its home continent, with further investment expected.
HumanIPO reported earlier today Naspers' interests in Chinese Tencent and Russia's Mail.ru accounted for ZAR4.4 billion (US$438 million) and ZAR405 million (US$40.1 million) of core headlines earnings respectively.
During the past six months high profile Naspers investments included an 80 per cent stake in Indian online ticketing platform RedBus for an effective ZAR1 billion (US$99.2 million) and a further 28.6 per cent stake – bringing it to 53.6 per cent in total – in Dubai online classifieds site Dubizzle for ZAR939 million (US$93.1 million).
Much smaller investments were made in Middle East online retailer Souq Group Limited and Indian e-commerce site Flipkart.
But where are the African e-commerce and internet investments?
While the continent is making some progress with regards to internet and banking penetration, there does not appear to be much trust among the biggest investors that e-commerce and other online businesses can become significantly profitable and scalable in the immediate future.
iROKO Partners' apparent ditching of its online music streaming business and move away from video streaming towards hard copy sales and rentals is another indication of the lack of faith that exists in making money online from Africans.
South African e-commerce entrepreneur Andrew Lynch wrote in a guest post for HumanIPO earlier this year that he believed the supposedly imminent e-commerce boom was actually a myth as far as his country was concerned.
Naspers' comments and figures contained in their latest financial report certainly back this up, as does its prediction of where it will be investing during the next year.
For the first time in the company's history, it is making more money from its online operations rather than its broadcasting and print media businesses, but, crucially, it is also producing more revenue from its off-shore operations.
The company's e-commerce segment almost doubled its revenue, although it did make a trading loss of ZAR1.8 billion (US$178.5 million) due to high costs and investment, and again the company picked out its sites in Brazil and India for particular praise with regards to performance in online classifieds.
Naspers has more than doubled its pageviews across all its classifieds sites year-on-year to now sit at 227 million daily page views, while it also claims to be ahead of the market in the price comparison sites industry.
This is not to say Naspers does not have successful internet businesses in Africa. They do, it is just that they are not creating the kind of margins that it wants to shout about in its commentary.
Naspers' homeland operations include Property24, PriceCheck and Kalahari.
Good news stories in Africa which the multimedia company is prepared to highlight remain in broadcasting, however.
Naspers' pay-TV segment grew its revenue by 18 per cent to ZAR17.1 billion during the six month period and increased its subscriber base by a net 560,000, serving 7.3 million households across 48 African countries.
So while Johannesburg Stock Exchange (JSE)-listed Naspers is making great strides in the online world and preparing to make further investment in the space, it should not be confused with a booming and ready to explode e-commerce market in Africa.