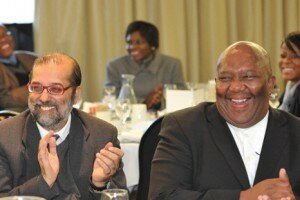 South Africa's communications minister Yunus Carrim (left). CC image courtesy of Flick.
The South African Department of Communications (DoC) has clarified how much was paid to its staff in bonuses in 2012/13, saying it paid more than ZAR3.5 million (US$336,000) as opposed to the ZAR2.8 million (US$269,000) it originally declared.
In response to a parliamentary question from Democratic Alliance (DA) shadow minister of communications Marian Shinn, communications minister Yunus Carrim said an "internal error" had led to him providing incorrect information.
"The department gave me those figures, obviously, and admits there was an internal error in reporting that 167 employees received bonuses to an amount of [more than ZAR2.8 million]," he said. "We apologise for the discrepancy and commit that going forward we will conduct quality reviews and checks."
Last month, Carrim had announced in response to a parliamentary question from DA member of parliament John Steenhuisen that ZAR2,803,047 had been paid in bonuses to 167 employees, but today he clarified ZAR3.574 million had been paid to 153, in spite of the fact a DoC audit rated the performance of directors, deputy-directors and senior managers in the department at around 50 per cent.
The bonuses came in spite of the National Treasury saying in its statement of medium-term policy in October that the DoC had achieved nothing with regards to ICT job and hub creation, broadband penetration and set-top box manufacturing.
"There has been no achievement on the number of small, medium and micro ICT enterprise hubs created in each province within the first six months of the year, due to budgetary constraints as funding earmarked for this has been reallocated to other priorities," the report said.
The poor performance prompted Sikhumbuzi Kholwane, chairperson of the parliamentary communications portfolio committee, to say Carrim was running the DoC like a 'spaza' shop (an informal convenience store).
Shinn told HumanIPO: "The saving grace with the bonus issue is that it was not given to any of the directors general who are collectively responsible for the failure of the department to meet its targets, but to lower-ranked staff, many of whom were working two jobs because of the shortage of appropriate skills in the department.
"The bulk of the bonus recipients were in administrative or support functions. No senior management level staff received bonuses."