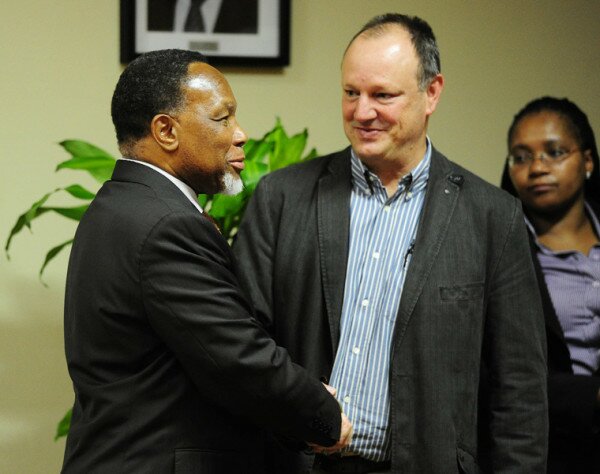 Deputy President Kgalema Motlanthe shakes hands with OUTA chairman Wayne Duvenage. CC image courtesy of GovernmentZA.
Wayne Duvenage, chairman of the Opposition to Urban Tolling Alliance (OUTA), has said the launch of e-tolls this week does not mean the end of the campaign against them and only now can his group really begin to protest the policy.
HumanIPO reported on Tuesday the controversial Gauteng e-tolling project had gone live and there have been reports during the week that local police were working against it and some motorists were avoiding the toll roads altogether.
Writing in his column for the Daily Maverick, Duvenage said now was the opportune moment to show the government and the South African National Roads Agency Limited (SANRAL) the level of hostility towards e-tolling.
"Until the past week, there has been no real opportunity for defiance," he said. "There have been a number of court challenges, marches, drive-slows and talk shops. These are the so-called 'sparring sessions', a postulation of position from both sides of the ring.
"In reality, defiance only starts when the bell sounds and the showdown begins. That's when the true colours are nailed to the mast (or windscreen) and when the people are able to truly express their opinion."
Duvenage said some foreign launches of similar policies had a 90 per cent level of compliance upon launch due to low costs of administration, but said the fact only 800,000 of 2.3 million freeway users had registered in Gauteng was a clear demonstration there had been a lack of consultation and fees were too high.
"This is nothing short of a disaster for them and has necessitated a programme of 'calculated intimidation tactics' from Sanral, with threats of summonses, criminal charges, bad debt listings, etc., in an attempt to coerce the public to tag up," he said.
"And while these tactics may even add another few hundred thousand to their list, this will still be no more than 50 per cent of freeway users at best, which is far from enough, sending a massive signal of success for the campaign of defiance."
Duvenage described the stay-away so far as "massive" and said Gauteng's e-tolls "will never be sustainable".