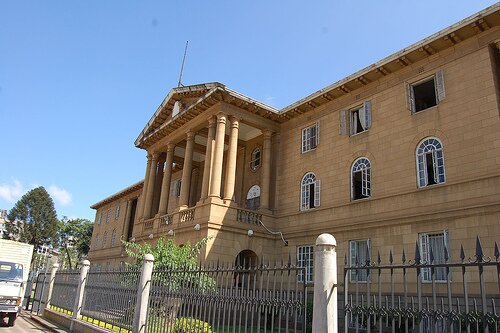 Kenya's high court CC image courtesy of CokeeOrg on Flickr
The Law Society of Kenya (LSK) has announced it wants to be enjoined in the suit challenging the legality of the controversial Kenya Information And Communication (Amendment) (KICA) Bill.
Senior counsel James Orengo representing the LSK will join senior counsel Paul Muite, who is representing the media stakeholders, in challenging the law, which critics argue will restrict media freedom.
"LSK has instructed Orengo to have it enjoined as an interested party in the suit scheduled to be filed by Senior Counsel Paul Muite challenging KICA Bill," LSK chief executive officer (CEO) Apollo Mboya said.
He said LSK is seeking to be enjoined as an interested party for purposes of articulating the broader constitutional issues regarding the passage of the controversial bill, which should by now be an act because it is not gazetted.
"Our concerns are on the freedom of expression and information with a view of safeguarding constitutional provisions on the same," Mboya said.
HumanIPO reported last month Kenyan journalists had vowed to go to court in a bid to challenge the new media bill after it was signed into law by President Uhuru Kenyatta.
In December journalists and stakeholders held countrywide demonstrations in protest over Kenyatta's proposed changes after he vetoed the bill following its approval in parliament, but then proposed a series of changes that members of the media argued were far much worse than the original law.